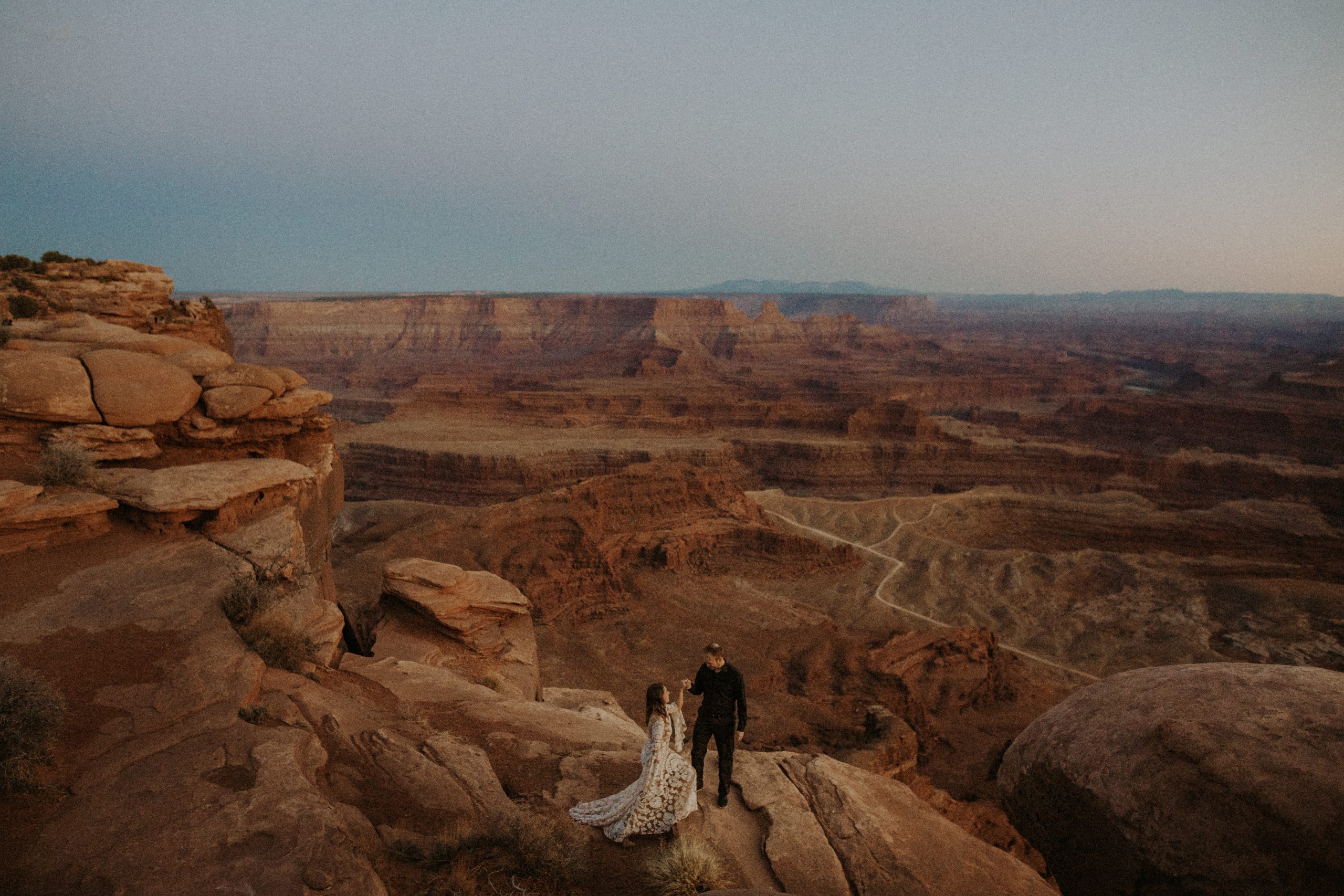 So many couples dream of eloping in the beautiful mountains, but you might want to consider a desert elopement too. Like a lot of people, I used to consider the desert to be a dry, desolate, ugly place, until I decided to visit Moab on a spontaneous car camping trip. I still remember the drive into Moab, seeing the huge red rocks, and sandstone towers for the first time, and being shocked by the beauty of it all. After that trip, my opinion of the desert was forever changed. There is something magical about the vast landscape – the warm colors, rugged rock formations, deep canyons, and wide open spaces that make you feel small. It's truly special to experience. Since that trip, I've explored countless desert locations all across the country. Some of these spots have quickly become my favorite places to shoot weddings. There are so many different desert locations to consider for your elopement, each with such diverse landscapes. It can feel daunting to choose a spot! I wanted to create a list of the best desert elopement locations, to help you narrow down your list.
Why you should consider a desert elopement:
First let's talk about why you should consider eloping in the desert. There are so many benefits! Of course the scenery is stunning, with gorgeous, rugged landscapes, golden sunsets, and warm, neutral color palettes – the desert truly makes the perfect backdrop for an elopement. The cacti also add a nice touch! The warmer weather means you can elope in the "off-season" months, when more vendors have availability, travel costs are cheaper, and you'll find way less crowds. Desert landscapes are also typically vast and open, making it easy to find seclusion and privacy – which is important when eloping!
Moab, Utah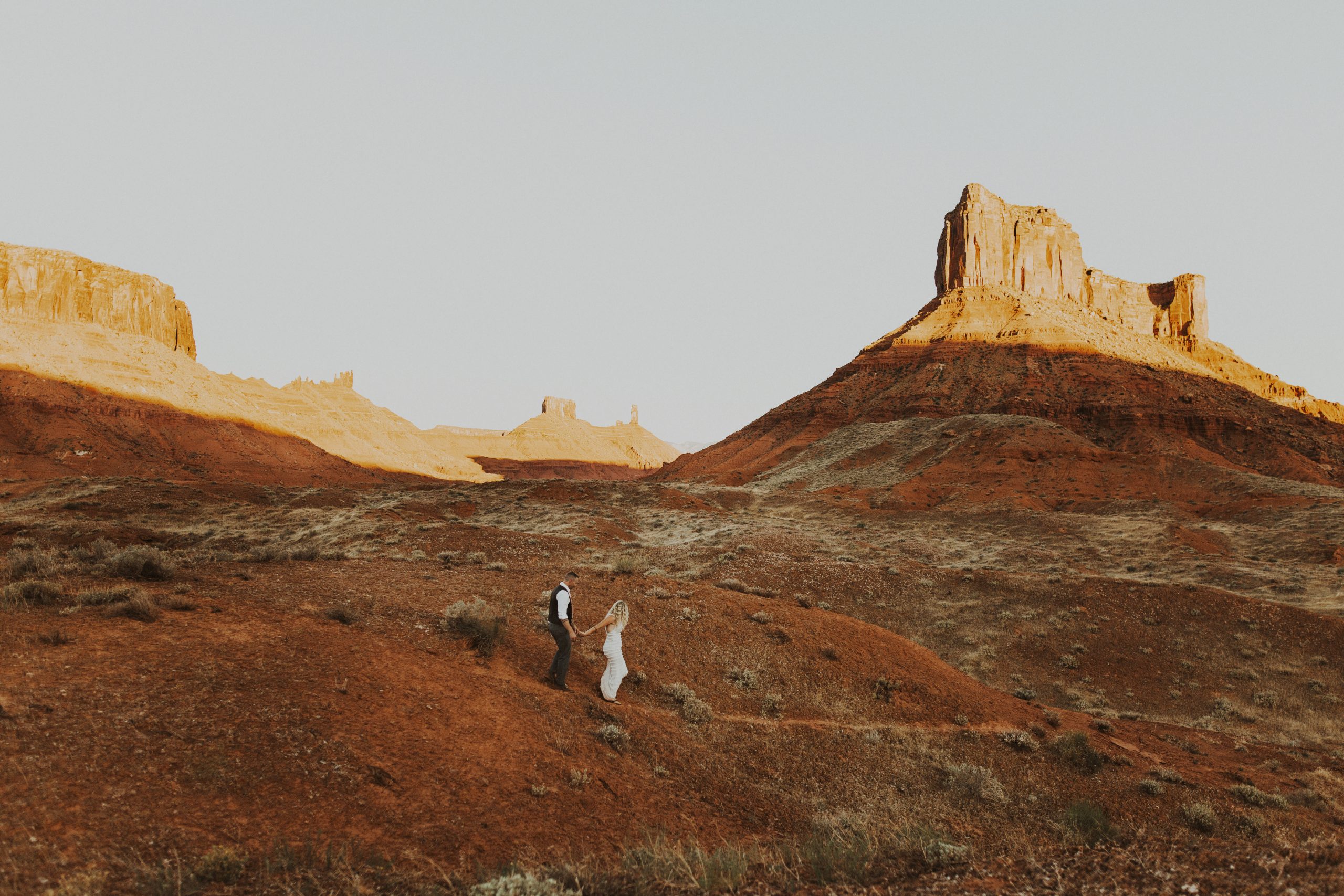 The first location on my list is Moab! Located in eastern Utah, Moab is an incredible place to plan a desert elopement. There are endless areas to explore, with miles and miles of untouched land that is perfect for finding seclusion or privacy. Whether you want to explore Arches National Park, or the surrounding BLM land, you have your pick of breathtaking cliff edges, vast valleys with towers speckled in the distance, mysterious slot canyons, and incredible arch structures. The options are truly endless! Moab also has some pretty unique accommodations, such as Under Canvas Moab, which can make your elopement day even more special. The best months to elope in Moab are March – April, and October – November, when the climate is more mild.
Here are a few blog posts from elopements I've shot in Moab, to get you inspired:
Desert Elopement in Moab, Utah
Zion National Park
Zion National Park is absolutely spectacular, with massive sandstone cliffs, vast overlooks, and narrow slot canyons. This is definitely one of the most popular spots on the list, but I've got a couple tricks up my sleeve to avoid the crowds. I recommend eloping in Zion in the spring and fall, when the weather is cooler. During the summer months the temperatures can soar to over 100 degrees, and the park becomes packed with thousands of tourists. In the off season, you'll find much more mild temps, and you can avoid the crowds. Being that it's a national park, Zion is an easy location to plan an elopement! They have multiple, pre-designated locations for wedding ceremonies, making the process pretty simple. You can also choose to elope outside of the park, then venture out to one of the hiking trails, or viewpoints for an adventure after your ceremony.
Here is the blog post from my favorite Zion elopement:
Colorado National Monument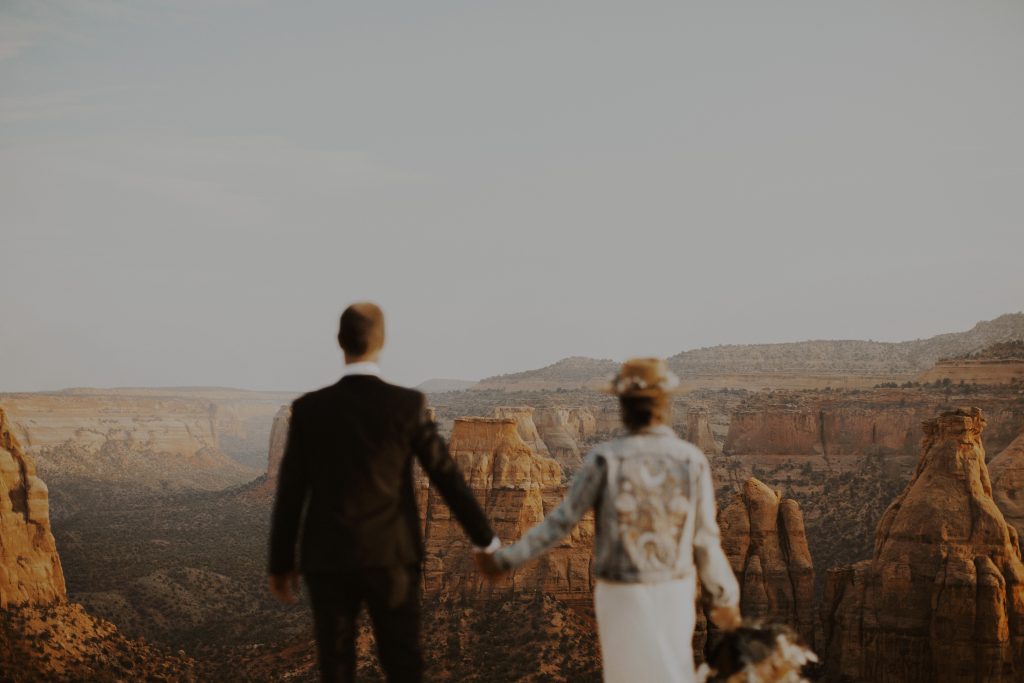 Now this spot is one of my all-time favorites for planning an elopement. The Colorado National Monument is located in western Colorado, just 10 minutes outside the city of Grand Junction. Being less than 2 hours from Moab, the landscape is extremely similar, with the same red rocks, breathtaking cliffs, and sandstone towers. Unlike Moab though, this monument has not yet been discovered by the world of weddings, meaning you can easily have some of the most popular viewpoints all to yourself. This is the perfect location if you are looking for seclusion and solitude, while also having a super unique experience. While the weather will definitely be more mild in the "off-season" months, you really don't have to worry too much about the crowds at any time of the year here.
Check out this incredible intimate wedding I shot at the Colorado National Monument:
Boho Elopement at the Colorado National Monument
Joshua Tree National Park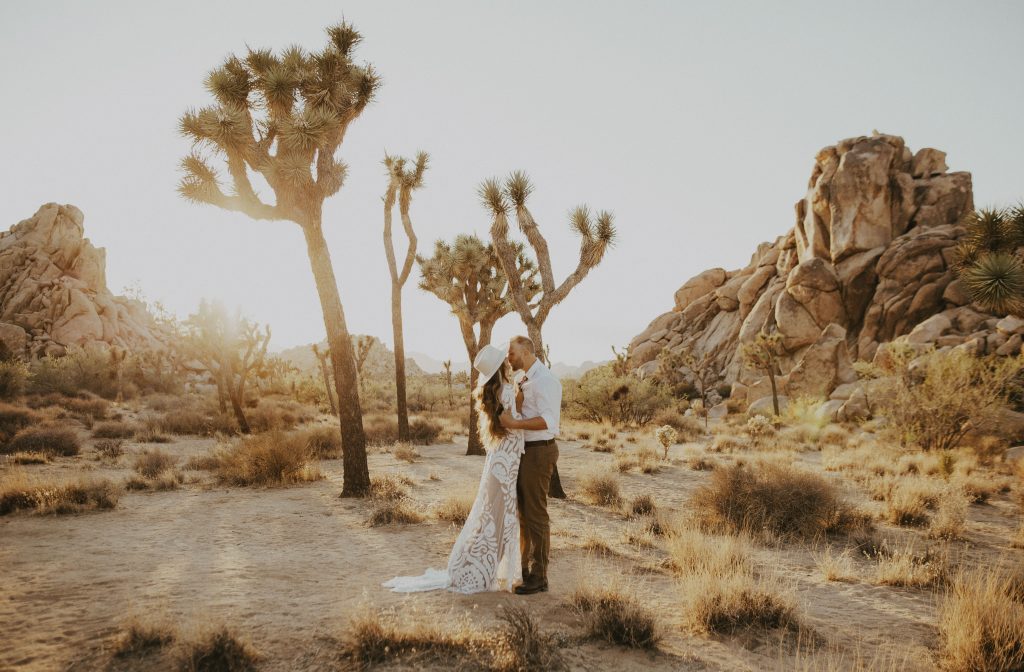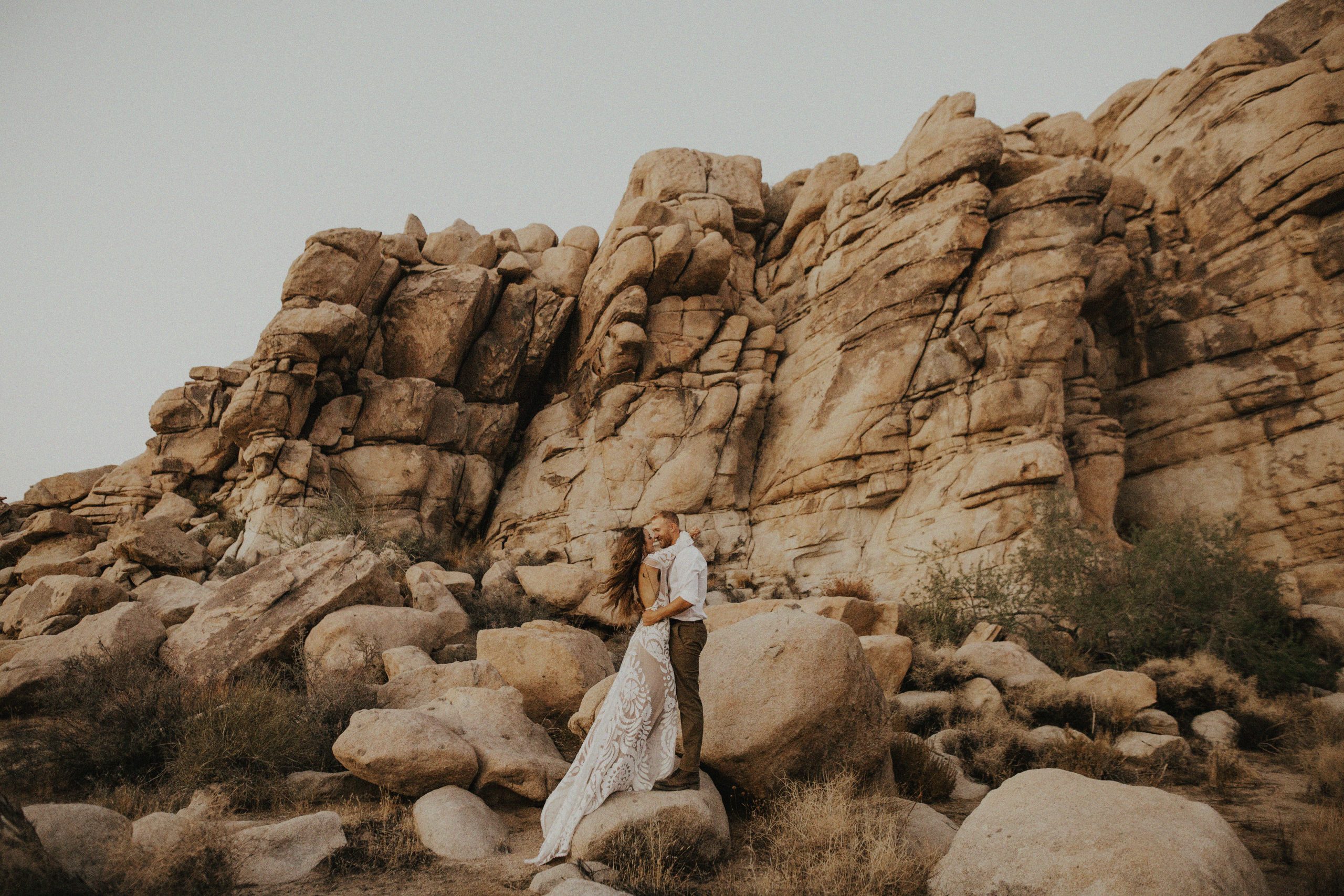 Next up on my list is Joshua Tree National Park, characterized by its rugged rock formations, and mystical beauty. Two desert ecosystems come together to create the unique landscape, speckled by the majestic Joshua Trees, and other diverse plant life. The endless granite monoliths create the perfect natural alter for an elopement ceremony. Not only is the park incredible, but the town of Joshua Tree is charming, and full of character. It has some of the best (yet affordable) Air-Bnbs in the country, with gorgeous, minimalist and modern designs – making your elopement experience even more special. The endless Air-Bnb options, along with the straightforward permitting process, make Joshua Tree the perfect location for a desert elopement.
Check out this beautiful Joshua Tree elopement:
Joshua Tree National Park Elopement
Alabama Hills, California
Alabama Hills is truly one of my favorite places I have ever photographed in. It's located just outside of Lone Pine, California – easily accessible via a dirt road, yet completely empty and private! The contrast of the rugged, desert landscape against the vibrant blue tones of the Sierra Nevada mountain peaks was so picturesque, I instantly fell in love with this spot. I was completely blown away by this rugged, alien landscape. This place really feels like a playground for adults, with SO many granite boulders to explore, and natural rock arches to discover. Out of all the deserts to explore in the US, this place is truly so underrated, I can't recommend it enough for an elopement.
Check out this fun Alabama Hills adventure session I did with Gabi and Matt to get inspired:
Alabama Hills Adventure Session
The Great Sand Dunes National Park, Colorado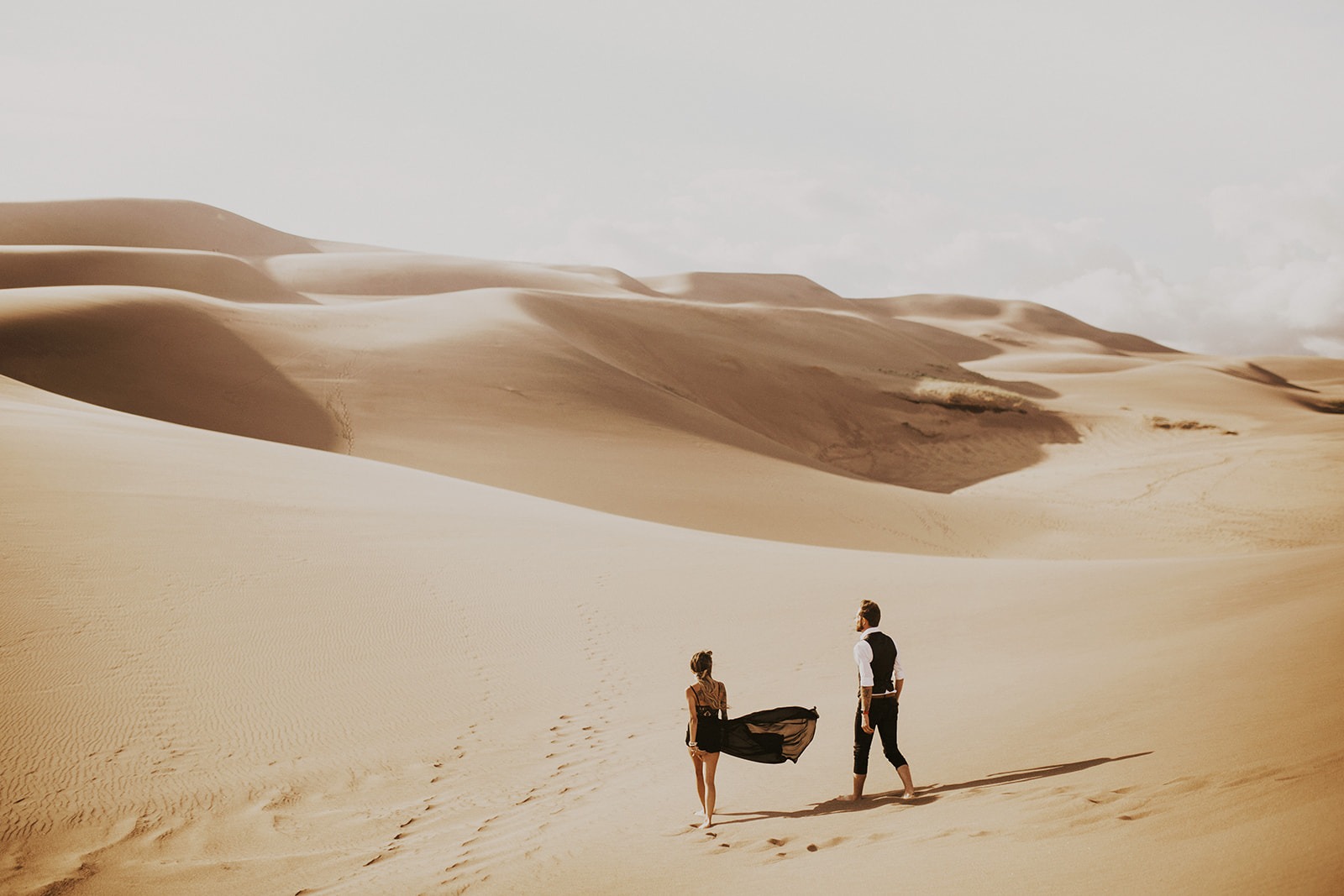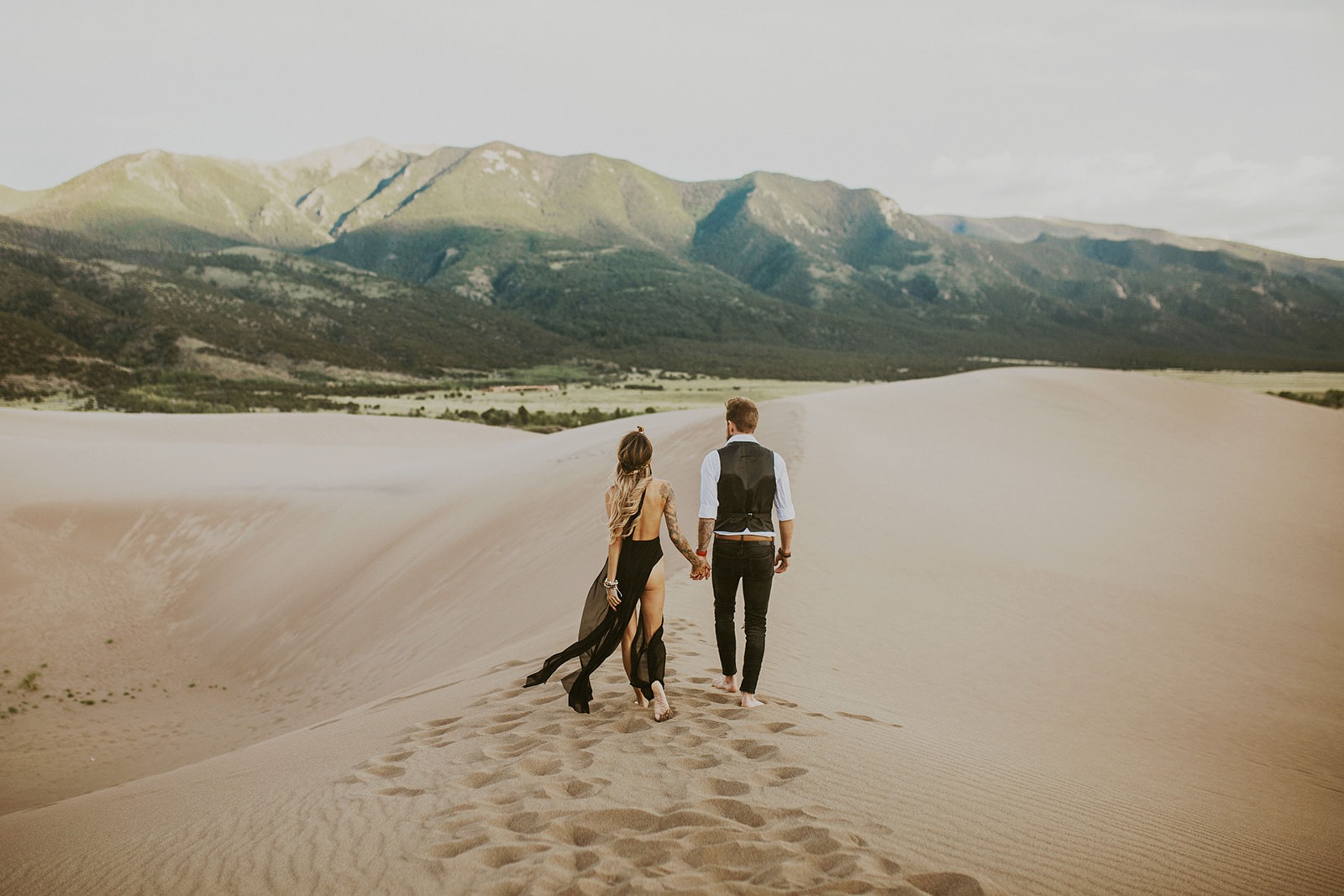 The Great Sand Dunes are another favorite spot of mine! I've shot here multiple times, and although climbing the dunes is one of the hardest things I've ever done, the views are totally worth it. The Great Sand Dunes boast the tallest dune in the country, and the views are spectacular. In the evening when the sun sets, the dunes glow with the most incredible, golden color, while the mountain peaks in the distance light up with a pink alpine glow. This landscape can be intense though, with piercing strong winds that pick up the sand, making it feel like tiny needles are stabbing you, and crazy temperatures (sometimes it's scorching hot, and sometimes it's freezing cold). To avoid the crazy weather I recommend eloping in the sand dunes during the tail season months of April – May, and October – November, when the climate will be the most mild.
Here are a few blog posts from my adventures at the Great Sand Dunes:
The Great Sand Dunes Engagement Session
Great Sand Dunes National Park Elopement
The Valley of Fire, Nevada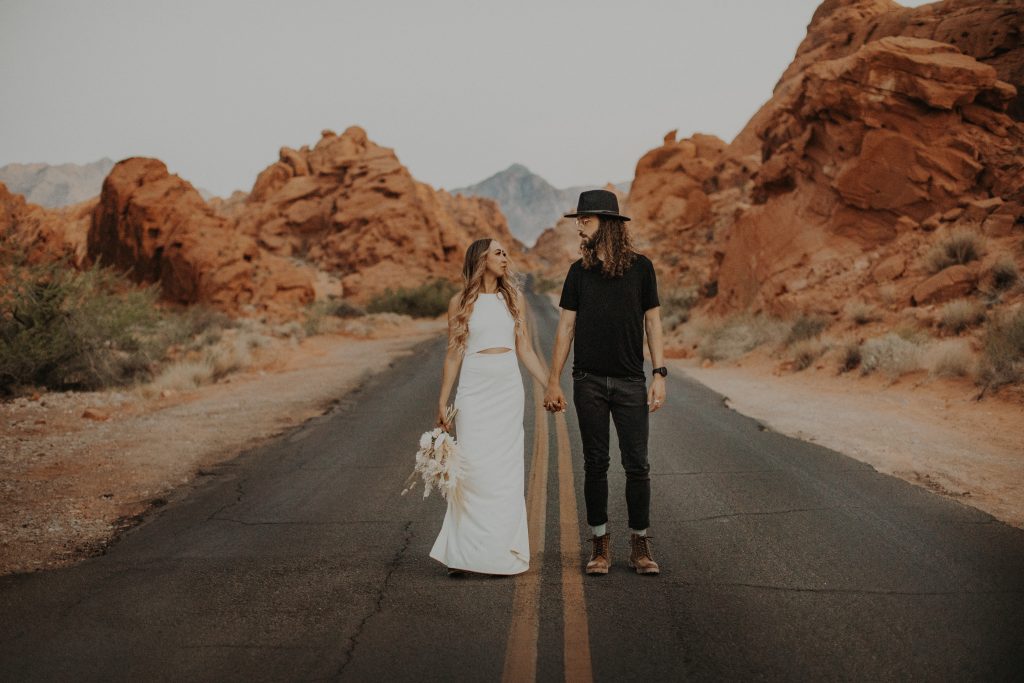 The Valley of Fire is truly an otherworldly landscape, speckled with red rock formations that resemble fire (especially when illuminated by the gorgeous sunsets). With petrified trees, Aztec sandstone formed 150 million years ago, and petroglyphs dating back thousands of years, this state park is an ancient wonderland. The gorgeous scenery, and close proximity to Las Vegas, makes this such a fun spot to elope. Beyond the iconic Mouse Tank road view, there are so many areas to explore, and hike around. You'll find the best weather from October – April, when the weather is pleasant and not scorching hot!
Here's a blog post to get inspired for your Valley of Fire elopement:
Valley of Fire State Park Elopement
Waimea Canyon, Kauai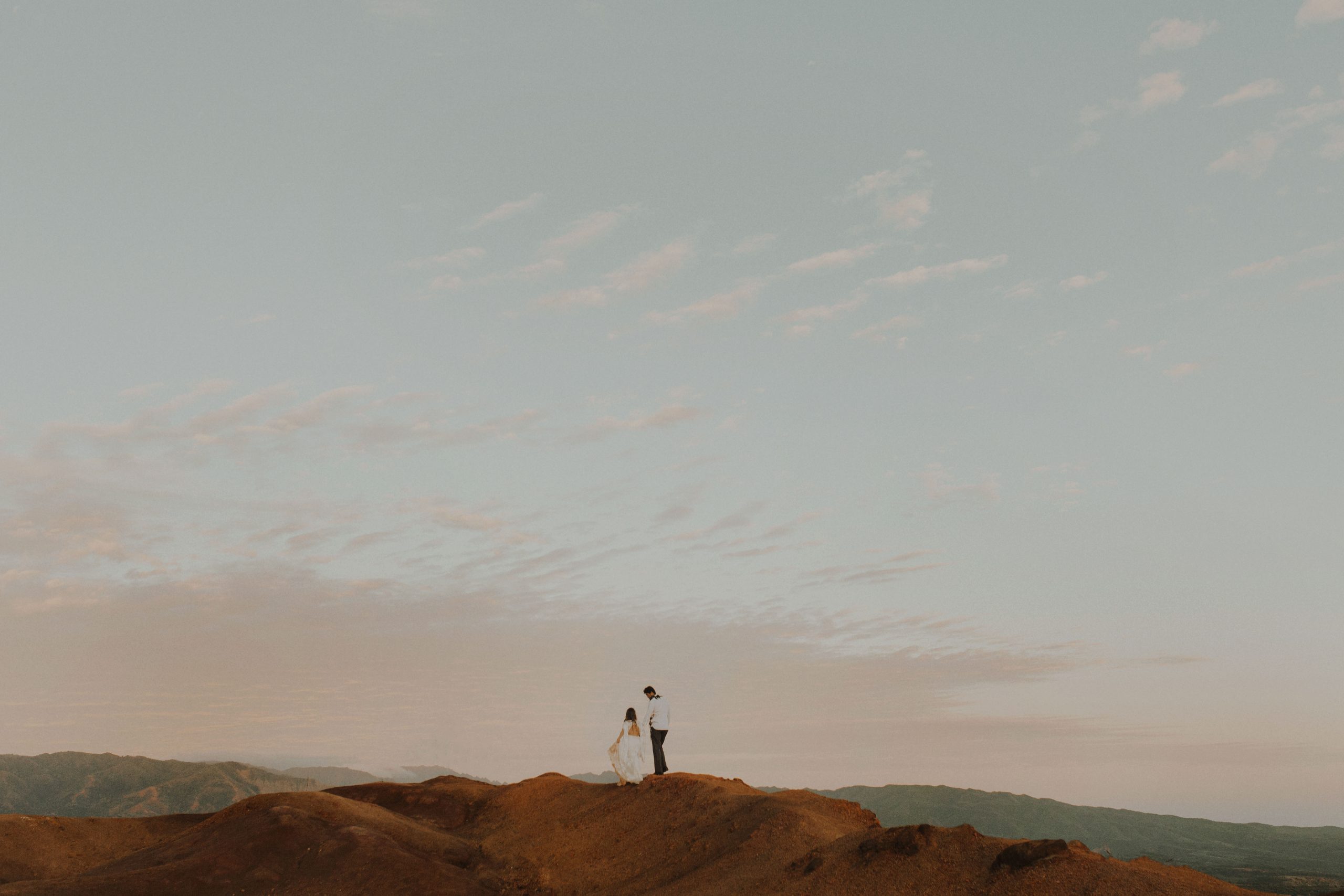 When you think "desert" I'm sure the last place you think of is the Hawaiian Islands, but let me clue you in on one of the most breathtaking landscapes you will ever experience. The Waimea Canyon is known as the Grand Canyon of the pacific, known for its dramatic colors, and towering peaks, with spectacular views of the turquoise ocean below. This spot is a unique combination of a lush, tropical landscape, with stunning desert-like features. With hues of bright red and orange, rugged cliffs, and deep canyons, the Waimea Canyon will take your breath away. Not only is it spectacular, but the rest of Kauai is home to some of the most beautiful beaches, and lush jungles in the world. The Waimea Canyon is the is the perfect elopement location if you want to get the best of both worlds!
Check out this beautiful Waimea Canyon elopement:
Waimea Canyon Jeeping Adventure
Let's get started planning your desert elopement
The desert is truly a magical place to get married. Saying your vows in a landscape that is so rugged, and vast holds so much significance. If you feel connected to any of these location, then reach out here and we can get started planning. I've explored these deserts extensively, and know the areas well, so I'll be able to help you plan the desert elopement of your dreams.