Planning to elope in Colorado? Well then, let me tell you about the BEST hidden gem location the state has to offer – Ouray, Colorado. This tiny little town is nestled in the middle of the incredible San Juan mountain range, out in the western slope of Colorado. I specialize in helping couples plan incredible elopement experiences in Ouray, so it's safe to say I'm pretty obsessed with this town.
I could list a million reasons, but no one has time for that, so I've condensed this list to the top 10 reasons you should elope in Ouray, Colorado – plus I included 1 bonus reason at the very end! If they resonate with you, then let's get started and plan an incredible adventure together in the San Juan mountains!
1. The incredible scenery
The number one reason you should elope in Ouray, is of course the scenery. For most couples, the biggest deciding factor when choosing an elopement location, is well…the location itself. Of course you want to elope somewhere with breathtaking views, and I promise Ouray has no shortage of that! Ouray's epic scenery and alpine environment actually earned it the nickname, "Switzerland of America," due to the similarities to the Swiss Alps. Filled with spectacular mountain views, turquoise glacial lakes, beautiful waterfalls, and unforgettable landscapes, Ouray truly is the perfect place to elope.
2. Seclusion and privacy
Another super important factor when choosing your elopement location is privacy and seclusion. You don't want to be saying your vows, surrounded by hundreds of tourists snapping selfies! The San Juan mountains are the HIDDEN GEM of Colorado! Don't get me wrong, Ouray is still a tourist destination, BUT it receives far less tourism than areas on the front range of Colorado. Sure, you'll run into other people, but you'll never find yourself stuck in traffic, fighting for parking spots at trailheads, or elbowing people out of the way to catch a glimpse of a view point! The mountains are so vast and open, it's easy to find seclusion for your elopement ceremony! Plus if you hire a photographer that knows the area well (wink wink!), they can bring you to some secret spots, where you might be the only one around for miles!
3. It's the Jeeping capital of the world
Ouray has a lot of nicknames! Besides being known as the "Switzerland of America," it's also been coined the "Jeeping Capital of the World." With over 500 miles of rugged, breathtaking mountain trails, there are so many amazing locations for your elopement ceremony that area easily accessible! Where else can you access some of the most remote, incredible landscapes in the world without a grueling 8 mile hike, or chartering a helicopter?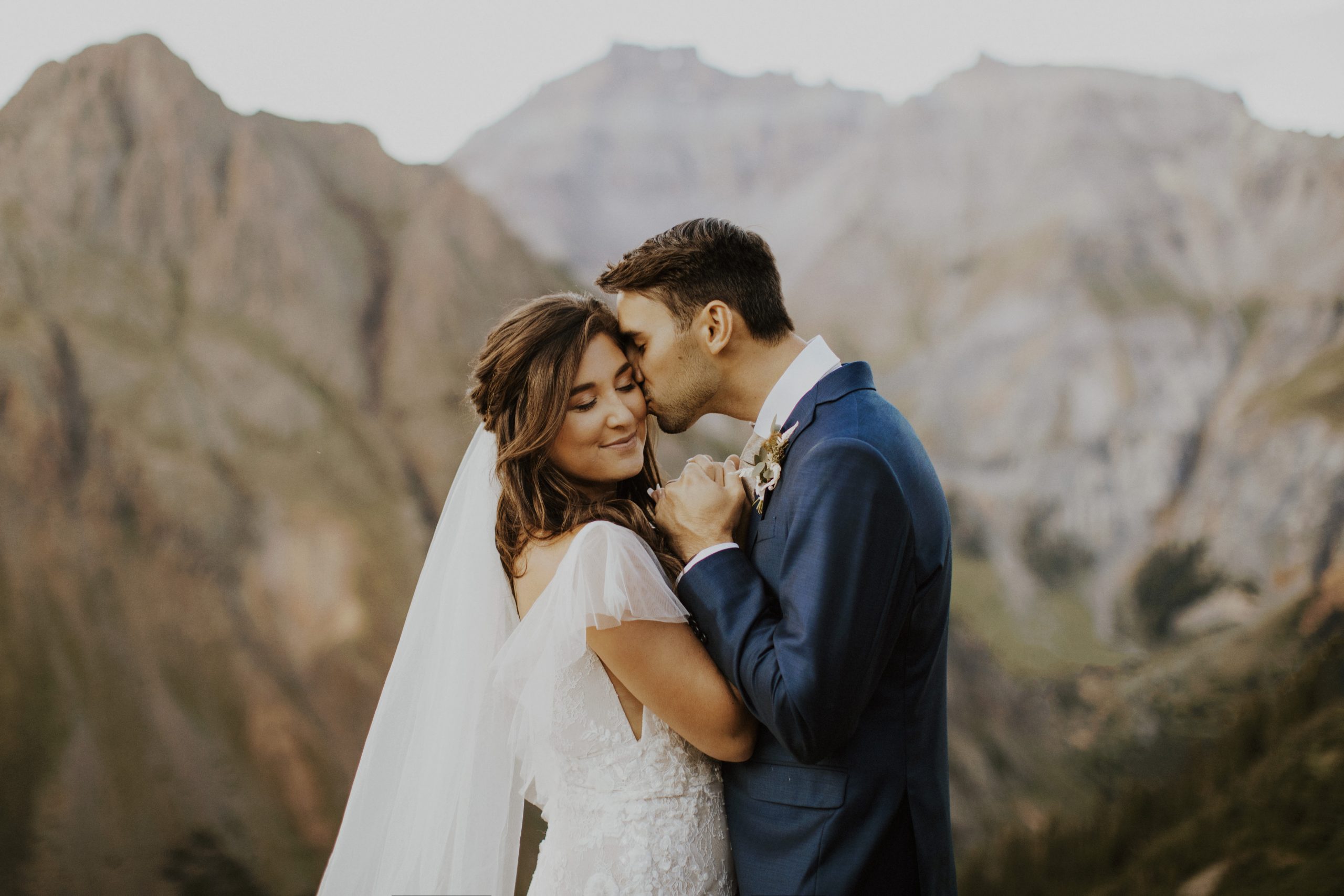 4. The town is pretty cool
I know I've talked a lot about the mountains around Ouray, but the town itself is pretty great too! It's rich with history, has adorable Victorian style architecture, and so much small town charm, while still having enough amenities, and fun things to do! It has lots of great restaurants, the local brewery, coffee shop, Mouse's Chocolate (the BEST chocolate shop), and fun shopping, plus the locals are super friendly! The Ouray Hot Springs is also amazing – the perfect way to end your elopement day! Ouray is also centrally located, so you can easily pop over for a day trip to Telluride, or Silverton!
5. Less permits and strict regulations
If you know anything about Colorado, then you probably know how busy the front range has become! You can expect to sit in hours of traffic on the weekends, just to make it into the mountains. So many of the beautiful locations now require reservations, entrance fees, timed entry systems, fighting for parking spots, or riding shuttle buses just to access the areas. Ouray is a rural paradise in comparison! You won't find anything like that out here! The mountains are your playground!
Another great reason to elope in the San Juans is that you likely won't need to apply for a wedding permit! Although it does depend on your group size, and a variety of other factors, most small elopements won't need one, making the planning process even more simple!
6. The San Juan Mountains are special
There is something truly special about these mountains, that makes it the perfect place to commit your lives to one another. Almost everyone that visits is captivated by the magic of Ouray, and is drawn back over and over again. If you elope here, you will probably fall in love with the area, and it will hold a special place in your heart for the rest of your life. The San Juan mountains aren't just another pretty Colorado location that a million other couples have gotten married at. When you elope in Ouray, you get to say your vows in a spot that no one else ever has.
7. No officiant needed to legally elope in Ouray!
Colorado is one of the easiest states to elope in! You can self-solemnize here, meaning you can legally marry yourselves without having to hire an officiant! This means you can elope in some of the most remote areas of the San Juan mountains, without having to worry about finding an officiant that is willing to hike or off-road to a location like that.
8. There are 4 amazing seasons to choose from
Ouray has 4 incredible season, and each one is amazing in its own way! Whether you want meadows full of lush wildflowers, stunning fall colors, or a snowy winter wonderland, Ouray has it all! Each season looks vastly different from the last, and will provide a unique experience for your elopement adventure!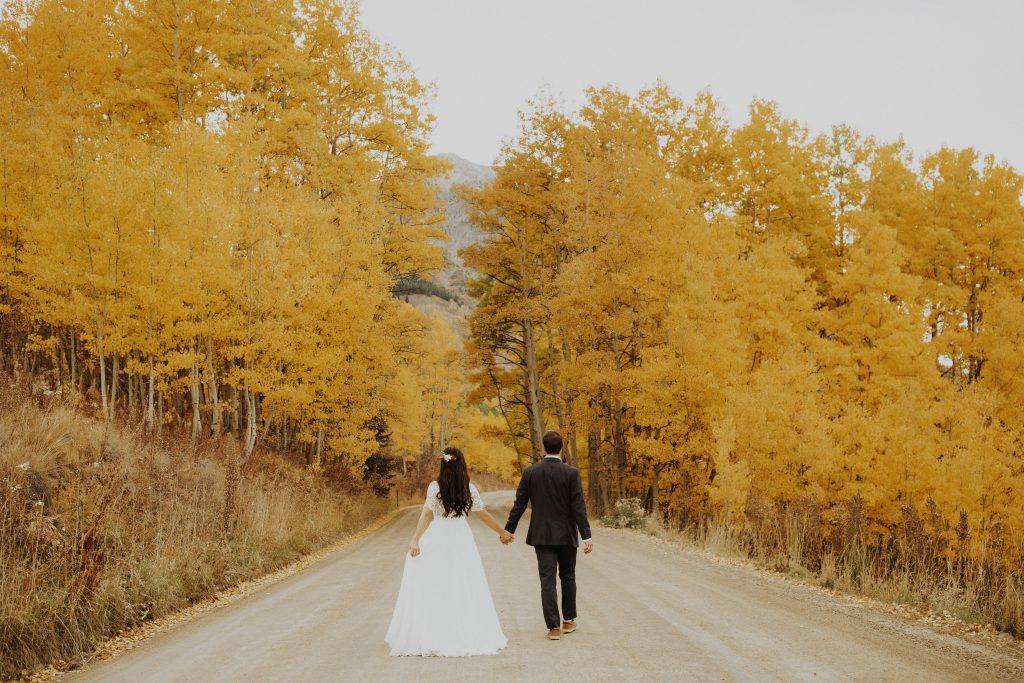 9. So. Much. Adventure.
You can literally never get bored in Ouray! There are SO many things to do. Whether it be world class hiking trails, the Ouray Via Ferrata (an actual obstacle course through a canyon!), mine tours, ice climbing, canyoneering, ATV riding, or even ziplining! You can even incorporate some adventure into your elopement day!
10. The San Juans are super dog friendly
It's hard to imagine eloping without your fur baby by your side. Luckily, in the San Juans you don't have to! Dogs are allowed on almost all of the trails around Ouray! Plus, you can have your pup sign as a witness on your marriage license in Colorado! How adorable is that?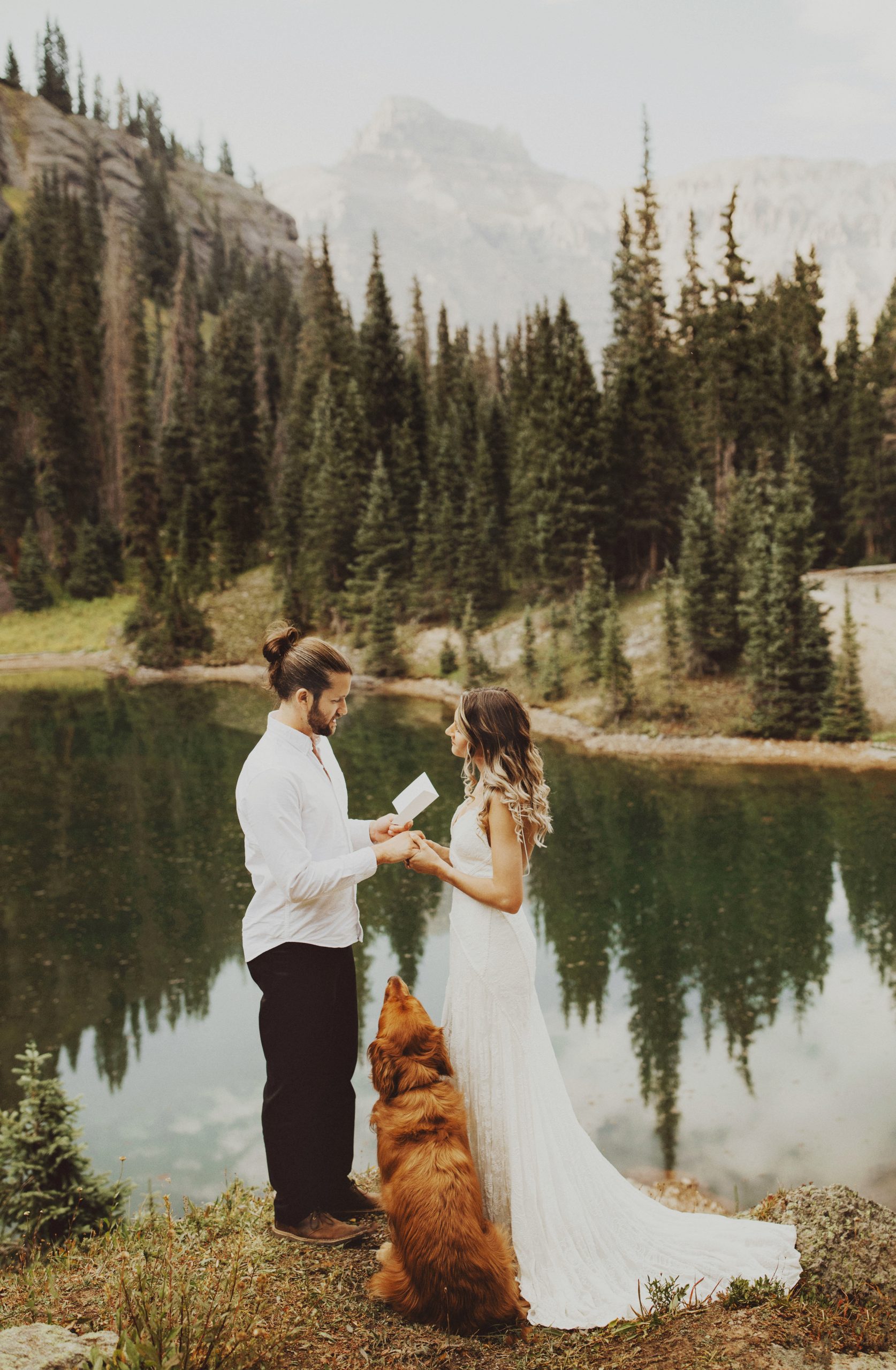 Bonus Reason: You're guaranteed to get amazing photos!
And last but not least, when you elope in a place like Ouray, not only is the scenery spectacular, but you will also be having the experience of a lifetime – meaning the photos are pretty much guaranteed to be AMAZING!
Ready to plan your elopement in Ouray, Colorado?
I specialize in helping couples plan incredible elopement experiences in the San Juan mountains of Colorado. Ouray is my favorite place in the entire world, and there is nothing I love more than getting to share this special place with eloping couples. My experience exploring the area means that I know the * best * secret spots, where you can say "I do" without another person around for miles. Learn more about how to elope in Ouray Colorado and contact me here to get started planning your dream elopement experience!
Let's do this thing!!