Why you should elope in Ouray Colorado
Colorado is spectacular – it's home to thousands of incredible mountains, diverse landscapes, and countless areas to explore, so one might think it's impossible to distinguish the most beautiful mountain range of them all, right? Well….not exactly. Over my years of exploring every inch of this beautiful state, I have found there is one place in particular that stands out among them all. You might be surprised to hear that it's not Rocky Mountain National Park, or the Garden of the Gods (not even close!). It's actually the hidden gem town, known as Ouray, Colorado.
Ouray is located in the San Juan mountain range – home to the most spectacular scenery in Colorado. So spectacular that it's known as "The Switzerland of America," due to the similarities to the Swiss Alps. You might be wondering "why is this girl so obsessed with the San Juans?" Well, let me just tell you – Ouray is unlike any place I have ever seen (and I have seen a lot of stunning places). Filled with breathtaking views, unforgettable landscapes, and the opportunity for so much adventure. If you want beautiful mountains (think Sound of Music vibes), turquoise glacial lakes, sweeping valleys, cascading waterfalls, and wildflowers up to your chest, then Ouray is the perfect elopement location for you. Ouray is the Jeeping capital of the country – home to hundreds of incredible Jeeping trails, which means that some of the most remote, spectacular locations in the world are super easily accessible! No need for a grueling hike, or chartering a helicopter! All you need is a Jeep (and you're in luck, because I've got one of those 😉)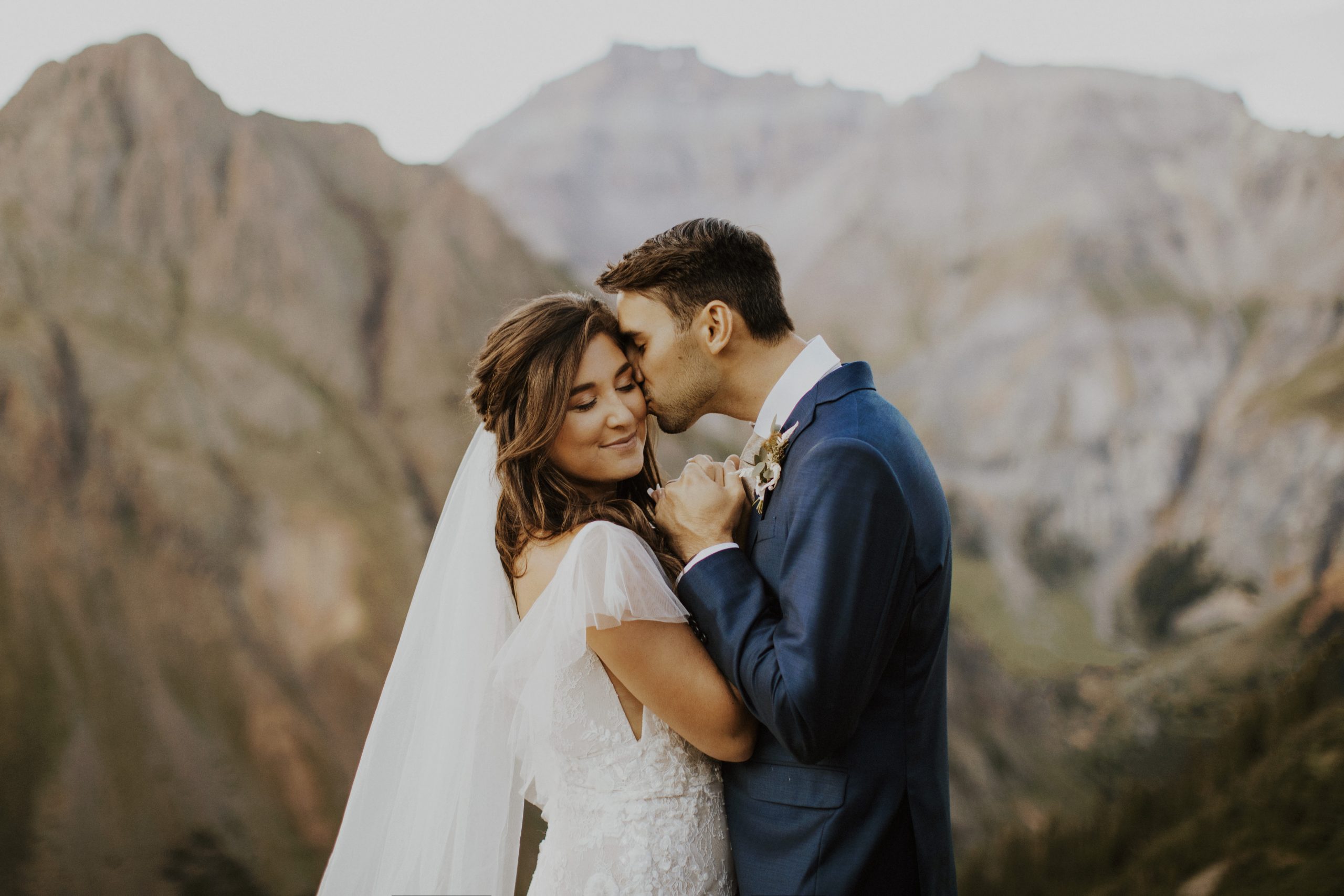 Now I'll admit, I am a little biased. Ouray holds a special place in my heart. I was lucky enough to grow up escaping the Texas heat, and spending my summers living in Ouray. We would spend our days hiking, trying to catch chipmunks, mining for gold in the rivers, and exploring the mountains. These summers were how I grew such a deep love for the outdoors, and gained so much knowledge about the area. Now I have built an entire business centered around helping couples plan elopements in these mountains that are so special to me. There is nothing better than getting to see the look on my couples faces, when they first see the beauty of the San Juan mountains.
Getting to Ouray
The San Juan mountains are located in the Western slope of Colorado, and is made up of 3 main towns: Ouray, Silverton and Telluride (which you might have heard of). These 3 towns are all about 45 minutes apart from one another, Ouray being the most centrally located of the 3. From Denver, it takes about 5 ½ hours to reach Ouray. It's a long drive, but absolutely beautiful! The easiest way to get to there is to fly into the Montrose airport, which is only about 45 minutes away. It's a small airport, so flights can be slightly more expensive, and less frequent – but it saves you a whole day of driving from Denver, so I think it's well worth it!
Where to stay for your Ouray Colorado Elopement
You really can't go wrong between the 3 towns as the each have their own charm, but Ouray is definitely my personal favorite! The town has tons of history, and small town charm, while also having enough amenities, and activities to make your elopement experience super enjoyable! Silverton is the more quiet, and remote town, while Telluride is much more luxurious and high end. In my opinion, Ouray is the perfect combination of the two. There are plenty of restaurants to enjoy, local breweries, the Ouray hot springs, a small grocery store, tons of guided excursions, coffee shops, and local shopping! Being so centrally located, you can easily pop over to Telluride and Silverton for a fun day trip to explore! A lot of the best hiking and Jeeping trailheads are located just outside of Ouray as well, making it the best spot for accessing the outdoors.
While Ouray certainly has its fill of traditional lodging options, there are also some really unique gems that would completely elevate your overall elopement experience. Some of these options are right inside town, while some are out in the middle of nowhere! All of these options would also be really beautiful for getting ready photos!
Where to elope in Ouray Colorado
So now that I have completely sold you on eloping in Ouray, it's time to choose where you actually want to elope. I'm a huge believer that the place you choose to say your vows and commit your lives to one another holds so much significance. Choosing your elopement location might just be the most important decision you make during this entire process! Luckily, the San Juan mountains have a plethora of incredible locations to choose from, and you really can't go wrong with any spot. There are a couple factors you'll want to consider when making this decision:
Scenery:
Ouray offers tons of diverse landscapes to choose from for your elopement! Do you want high alpine, above tree line views, rugged mountain peaks, turquoise lakes, fields of wildflowers, or cascading waterfalls? No matter what type of location you want, I guarantee Ouray has it! If it seems impossible to choose just one, you're in luck because you don't have to! Tons of my couples will plan to explore multiple locations for their elopement day! A lot of my favorite spots are all in the same area, making this super easy to do!
Privacy and Seclusion:
For a lot of couples, their main priority is privacy. After all, one of the main reasons couples choose to elope is to have intimate moments, and the privacy to be themselves! Ouray is one of my favorite places for planning an elopement, because of how easy it is to find seclusion! It's one of the best hidden gems of Colorado, BUT it definitely still receives its fair share of tourism! Popular Jeeping trails can get a bit crowded during the middle of the day, but luckily there are ways to avoid the crowds! Luckily, most of these mountain locations are vast, with lots of places to explore and find seclusion. Eloping at some of the lesser known trails is also a great way to avoid the crowds, so I recommend hiring a photographer that is an expert in the area (like me, wink wink!), and knows the best hidden gem spots for you to say "I do." I've got a couple secret spots up my sleeve, like the one pictured below! We rarely see another person on the trail!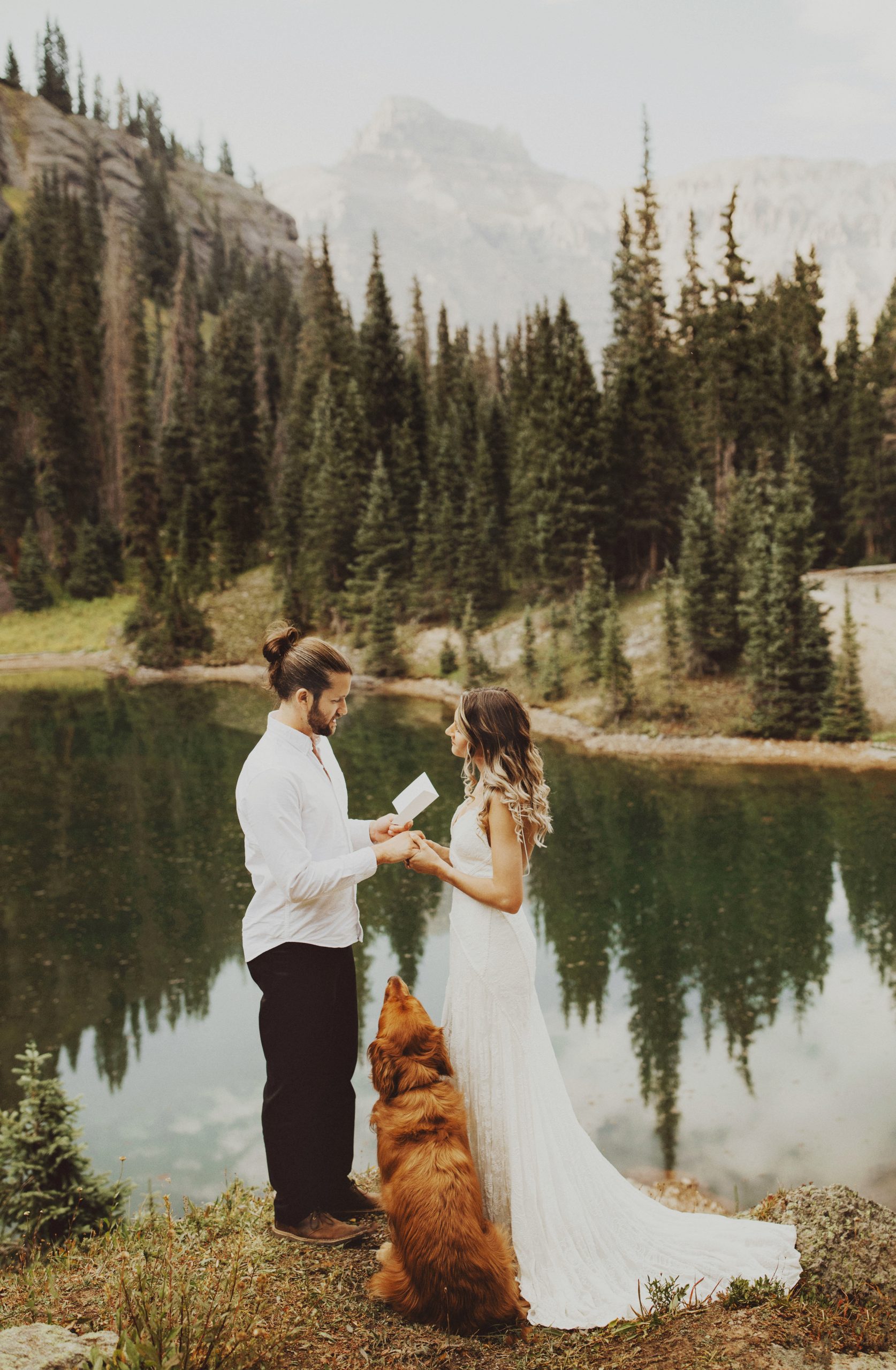 Accessibility:
The last thing to consider is how accessible you want your location to be! If you are including guests in your day that might have trouble with certain terrain, then you will need to choose a location that is easily accessible for everyone involved. How much effort are you wanting to put in to get to your elopement location? Maybe you want something you can easily Jeep to, or drive on a paved road. Or maybe for you it's more about the journey than the destination – then a spot that requires a fun adventure to access might be right up your ally (like hiking, canyoneering, horseback riding, or kayaking)!
When to elope in the San Juans Mountains
Seasons exist differently everywhere, so it's important to understand what season you will be eloping in, and how that might play a role in your experience. Colorado has 4 full seasons, meaning that any one location will look vastly different depending on the time of year! Although April is *technically* considered Spring, don't expect wildflowers and warm weather! If you choose to elope in Ouray anytime from November – early May, you should prepare for freezing temps, and snow! Especially at higher elevation locations! Typically by early June, a lot of the off-roading trails will start to open, but at that time of year there is no guarantee!
If you want warm weather, and a guarantee that the trails will be open, then eloping July – early October is your best bet! Mid July is one of my favorite times of year, because this is typically peak wildflower season! If you know the right spots to look, you can find wildflowers that are waist high. It's absolutely stunning!
It's almost impossible to predict exactly when the leaves will change, but usually the very last week of September – the first week of October is the best time for peak fall colors. This 2 week period is my absolute favorite time to be in Ouray. The changing aspen leaves are jaw dropping! Typically by mid-October most of the leaves have fallen, and you can start to expect cold, snowy conditions shortly after! If you are lucky enough to elope at the right time, you'll be treated with gorgeous views of the mountain peaks dusted with snow.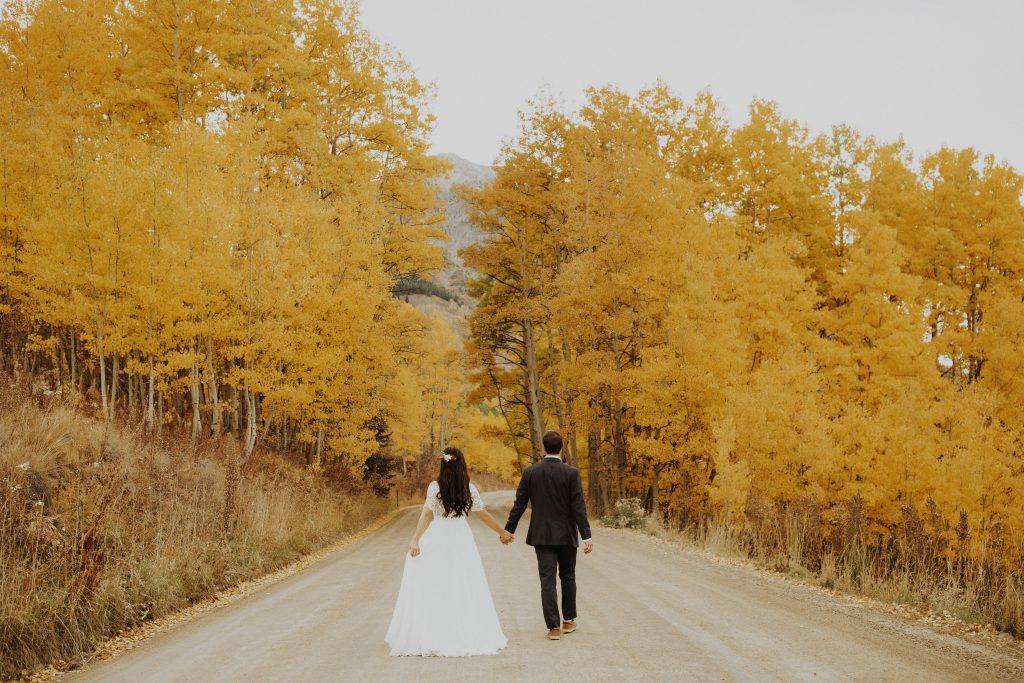 Marriage Laws + Permits
Marriage Laws:
Colorado is one of the easiest states to elope in! You can self-solemnize, meaning you can legally marry yourselves, with no officiant or witnesses needed! You can even have your dog sign as your witness in Colorado! To obtain a Colorado marriage license, you just have to go to any county clerk's office to fill out the application, and there is no waiting period!
Permits and Regulations:
When eloping in the front range of Colorado, you have to deal with strict regulations, timed entry systems, insane crowds, and unorganized permitting processes. Luckily, out in the San Juans, you typically don't have to deal with that! It depends on your location and group size, but with most elopements you won't need a permit!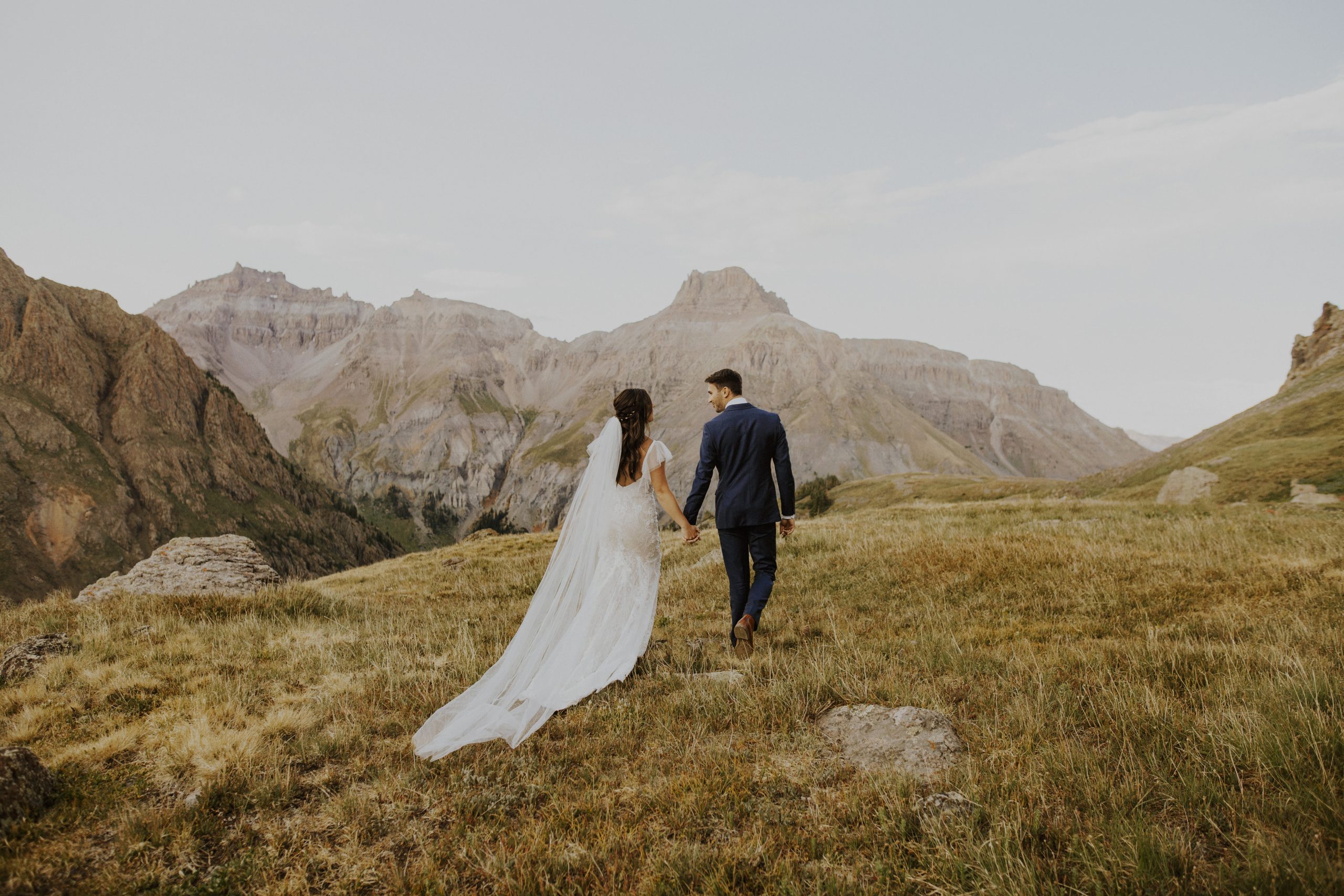 Book your vendor dream team
Choosing which vendors you want to hire can have a big impact on your day. There is no right or wrong way to go about it. Over the past few years I've gotten a pretty good idea of which vendors are worth considering for your elopement day. Take a look through the list I have provided, and start to consider which vendors you would like to include in your elopement.
Photography:
My number one advice when you start planning your elopement is to find your photographer FIRST. A great elopement photographer will not only be able to take gorgeous photos for you, but also use their expertise and knowledge to guide you through the steps of planning your elopement, and ensure you have an incredible experience. Investing in a good photographer is truly priceless, they will be the most important vendor you choose for your elopement. The backcountry of the San Juans is no joke, so you'll especially want to hire someone who is local, and knowledgeable about the area.
For elopement photographers, of course I'm going to recommend myself! Not only do I specialize in helping couples elope in the San Juans, but I also like to think I take pretty decent photos ;). Reach out here if you want to chat more about your Ouray elopement!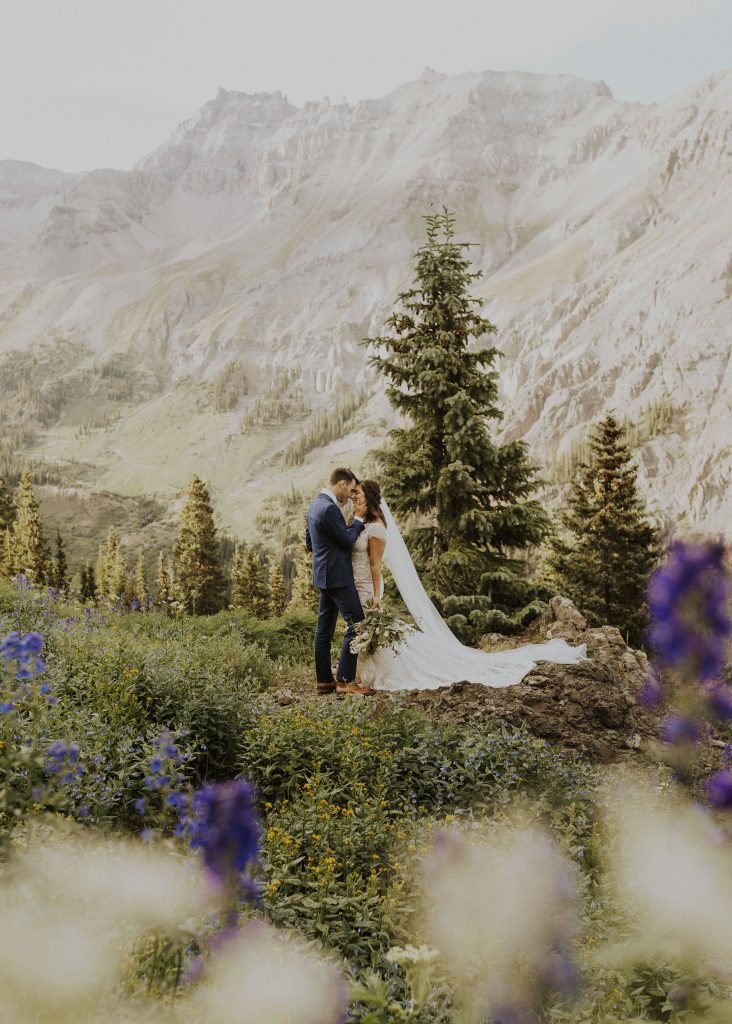 Hair & Makeup Artist:
About half my brides choose to get their hair and makeup professionally done, and half do it themselves! It's definitely not necessary to hire one, but it's totally worth splurging on if you think that it will make you feel your absolute BEST.
Here are some of my favorite local H&MU artists:
Florals:
I always highly recommend couples to hire an incredible florist for their elopement day. Florals seriously make all the difference, even if you just get a simple bouquet! This is a great way to add a gorgeous touch to your day, and make it feel extra special.
Here are some of my favorite local florists:
Officiant:
Since you can self-solemnize in Colorado, hiring an officiant is not necessary, but some couples still choose to anyways! I believe the right officiant can really add something special to an elopement ceremony.
Here are some of my favorite local officiants:
Jeep Rentals / Tour Guides:
Depending on the trail difficulty, and your comfort levels, you'll either need to rent a Jeep or hiring a local tour guide for your elopement adventure!
Here are some of my favorite local companies:
How much does it cost to elope in Ouray?
How much your elopement day will cost will depend on a variety of factors, and can vary pretty drastically depending on the type of elopement you want to have. * Side note – there is no right or wrong way to elope! Do what makes you happy, and invest in the things that matter to you.
Maybe you want a more simple elopement, where you camp out the night before, hike into the mountains with your photographer, say your vows, have a small picnic and then hike back down. That's obviously going to be a lot cheaper than a day with florals, a guided Jeeping excursion, and a private chef waiting for you back at your luxury lodging. My best advice is to really be honest with yourself about what your priorities are, and invest in those things, rather than going for a bunch of budget options so you can have a bit of everything. Eloping is about doing what you WANT to do, so don't get caught up in all of the things you "should" do. One thing to note, when you choose to invite guests to your elopement things will inevitably be more expensive and more complex to plan – so just keep that in mind when you are choosing who to invite.
Below, I've made a breakdown of what the costs are associated with eloping in Ouray, to give you a better idea of what your total costs might look like:
Photographer: $5,000-$9000
Wedding dress / attire: $500-$3000
Permit: Not needed!
Marriage License: $30
Officiant: $500 (but not required)
Florist: $500
H&MU: $350
Travel to Ouray / Accommodations: $1000-$3000
Jeep Rental / Tour: $300-$600
Catering / food: $75 – $300
Special details (personal vow books / invitation suites etc.): $45 – $200
Things to do in Ouray
The Ouray area is also known as the Outdoor Recreation Capital of Colorado, with a never ending list of adventurous activities to do. Everything from world class hiking, the Ouray Via Feratta, ice climbing searching for natural hot springs, and best of all Jeeping adventures! You can literally never get bored!
Ouray Hot springs
Ouray Via Ferrata
Hiking
Jeeping
Horseback riding
Mine tours
Ice climbing
Breweries
Rock climbing
Canyoneering
Zip lining
Visit the Box Canyon Falls
Visit the Cascade falls
Drive the million dollar highway
ATV rides
The Weisbaden Vapor Caves
Snowshoeing
Cross Country Skiing
Eat at Mouse's' Chocolate
Ready to plan your Ouray Colorado elopement?
I specialize in helping couples have the elopement of their DREAMS in the San Juan mountains of Colorado. Ouray is my favorite place in the entire world, and there is nothing I love more than getting to share this special place with eloping couples. My experience exploring the area means that I know the * best * secret spots, where you can say "I do" without another person around for miles.
My role as photographer goes waaaay beyond just taking incredible photos (although I do a lot of that too). I'm here to walk you through ever step to plan your incredible Ouray elopement adventure. Beyond just a gallery of AMAZING photos, when you book with me you get:
My 70+ page elopement planning guide – exclusive only to my couples
A "get to know you" questionnaire so I can learn all about you two + the your dream elopement
A customized list of INCREDIBLE locations to choose from
Vendor recommendations so you can book your vendor dream team
Assistance with acquiring the proper permits (all the boring legal stuff)
A hand crafted day of elopement timeline
Plus any other help you need!
Let's do this thing! Contact me here and we can get started planning your dream elopement experience!