If you are unfamiliar with the San Juan mountains, then prepare to have your mind blown. The San Juan mountain range is home to the most spectacular scenery in Colorado, making it the PERFECT place to plan your elopement. With a plethora of breathtaking locations, you truly can't go wrong with any spot. This region of Colorado is home to hundreds of Jeeping trails, making some of the most incredible mountain locations easily accessible! Whether you want beautiful wildflowers, rugged mountain peaks, cascading waterfalls, or an alpine lake – we have it all! If that's not enough to convince you, then check out the top 10 reasons to elope in Ouray.
This area of Colorado is my favorite place in the entire world, so I'm excited to share some of my favorite spots with you! Here's a list of the BEST places to elope in the San Juan mountains.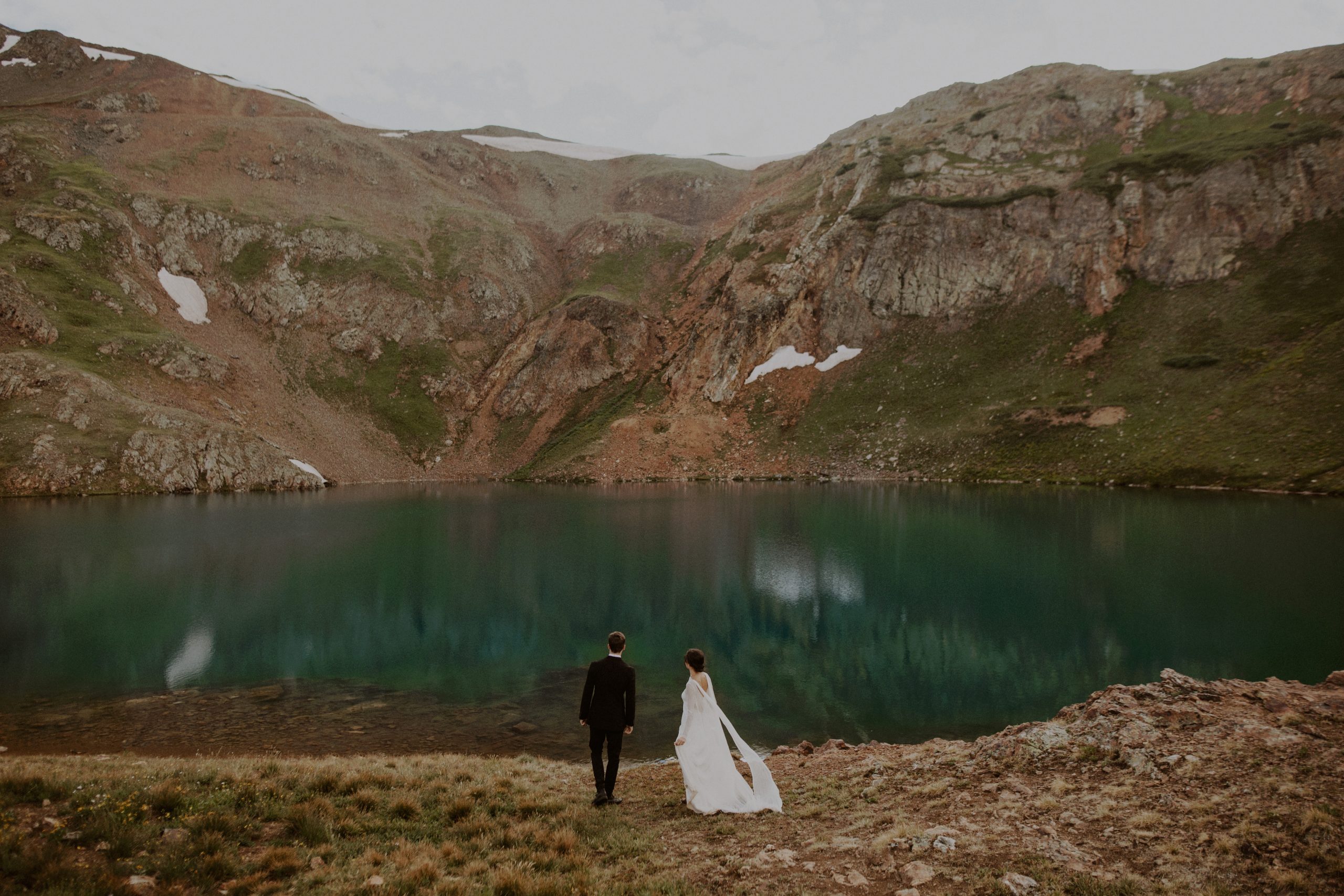 Do you need a venue to get married in the San Juan mountain?
I'm sure at this point you already know the answer is no! The majority of the weddings I photograph in the San Juan mountains don't happen at normal venues! Most of my couples choose to elope in the surrounding wilderness areas, national forests, BLM land, campgrounds and even at vacation rentals. The San Juan mountains are known for their spectacular scenery, so it's easy to find incredible locations for your ceremony. You don't have to pay thousands of dollars for a venue, to have a beautiful wedding experience here – mother nature has some pretty incredible venues, for free! I have a whole list of incredible, hidden gem spots that I share with all of my couples.
Jeeping Trails:
All of my absolute favorite elopement locations in the San Juans are accessible by OHV (off-highway vehicle)! The San Juans have hundreds of miles of off-roading trails, so there are some pretty spectacular locations where you can say your vows. There is a huge variety of routes, ranging in all levels of difficulty, so whether you want something a bit easier, or you are up for an adventure, there is a trail for you! I absolutely love Jeeping elopements because you can visit some of the most remote, incredible mountain locations without a grueling 8 mile hike, or having to charter a helicopter! * Please keep in mind that Jeeping can be dangerous, and you need to be prepared and knowledgeable when adventuring in the San Juan backcountry, especially at elevations above tree line.
Here are some of my favorite Jeeping Trails:
Yankee Boy Basin
Yankee Boy Basin is one of the most popular trails in the San Juan mountains! It's a beginner level trail, that boasts some incredible mountains views. The drive through the valley presents some spectacular scenery – abundant wildflowers, views of Mount Sneffels, the famous Twin Falls waterfall, and lush greenery. This is one of my all-time favorite elopement locations! This spot is especially great for elopements with guests, due to how easily accessible it is! Check out this Yankee Boy Basin Elopement for some inspiration here!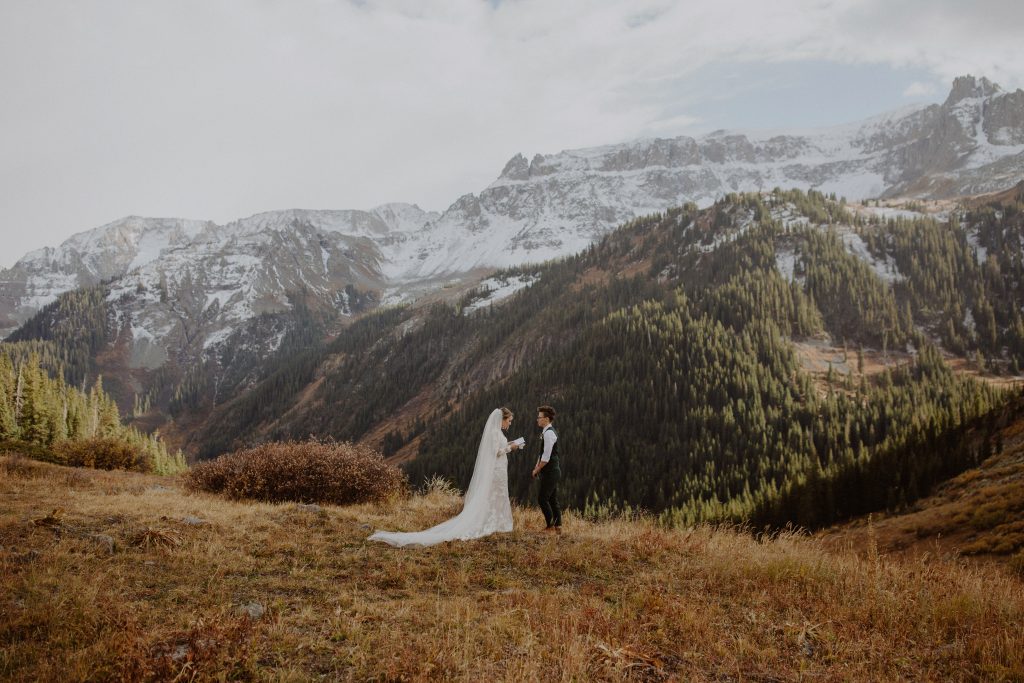 Governor Basin
Governors Basin is another incredible trail, with some awesome wildflower viewing spots along the way up! Once you reach the top, you are rewarded with incredible views of the dramatic mountain peaks, alpine meadows, and old abandoned mines! The mountain views are unlike anything I've seen before! Just keep in mind, this spot is at a very high elevation, so make sure you are prepared!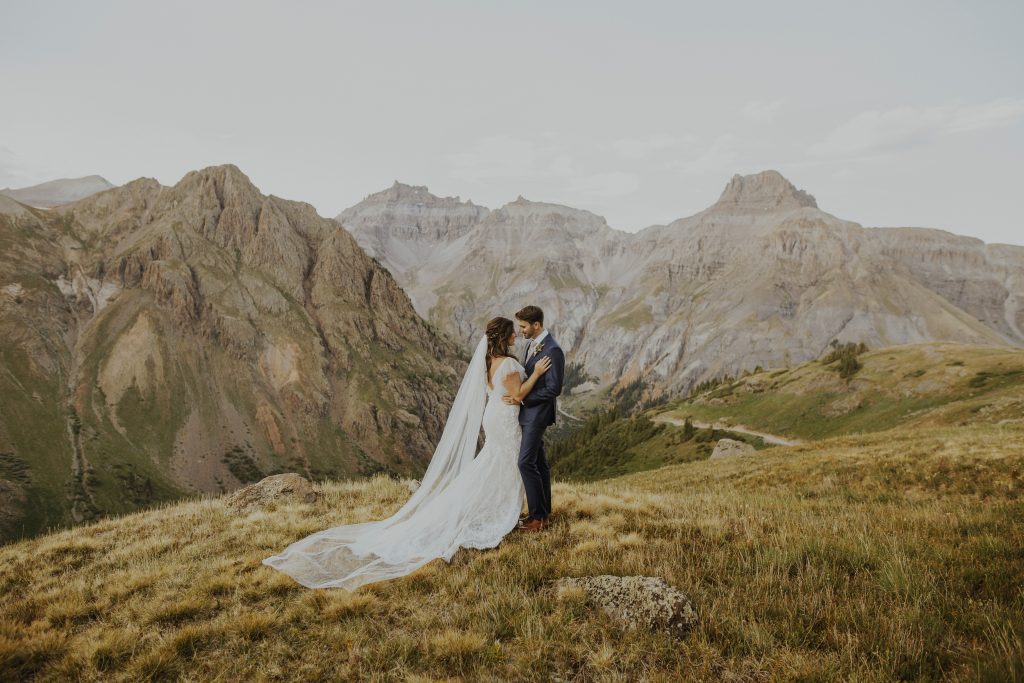 American Basin
American Basin is possibly one of the most beautiful trails in all of the San Juans. This high alpine basin features the most incredible views of 14,000 ft. cliffs, gorgeous wildflowers, and a winding creek. You can also take the hiking trail up to Sloan Lake, which is not to be missed! This is another high elevation location, so make sure you prepare properly!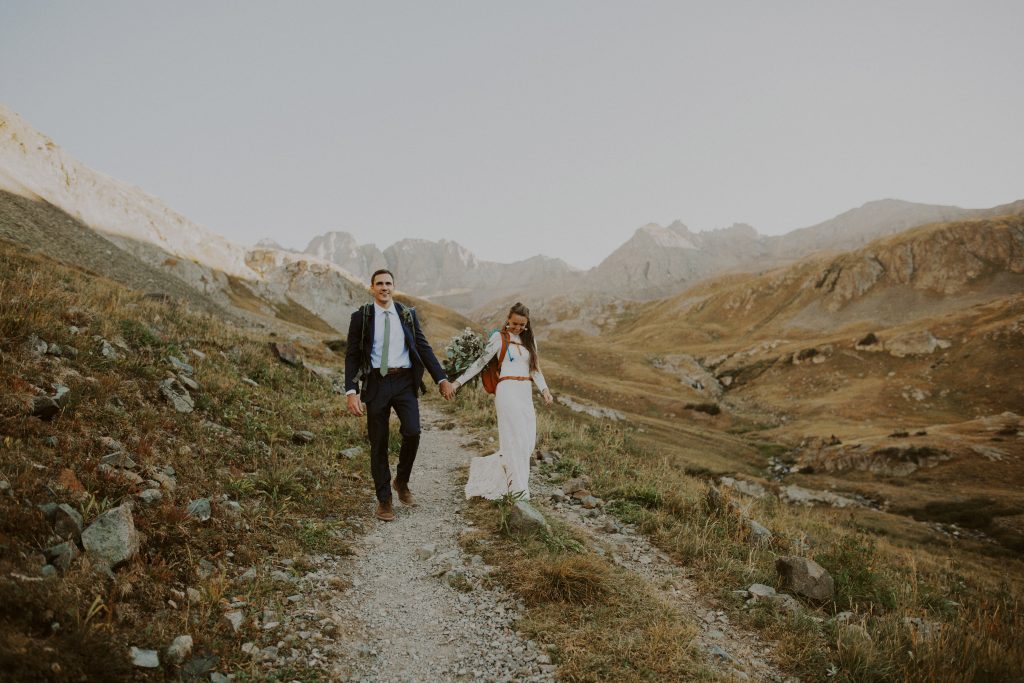 My favorite secret spot!
This is one of my FAVORITE spots in the San Juans. It has not one, but TWO gorgeous lakes, within about a 5 minute drive of one another! There's also a secret waterfall, incredible lush greenery, and meadows full of wildflowers. This location is super unknown, and I rarely see another person on this trail when I'm out there. For that reason, I'm gonna keep this spot a secret, exclusive only to my eloping couples! It's the perfect location for a private, intimate elopement ceremony.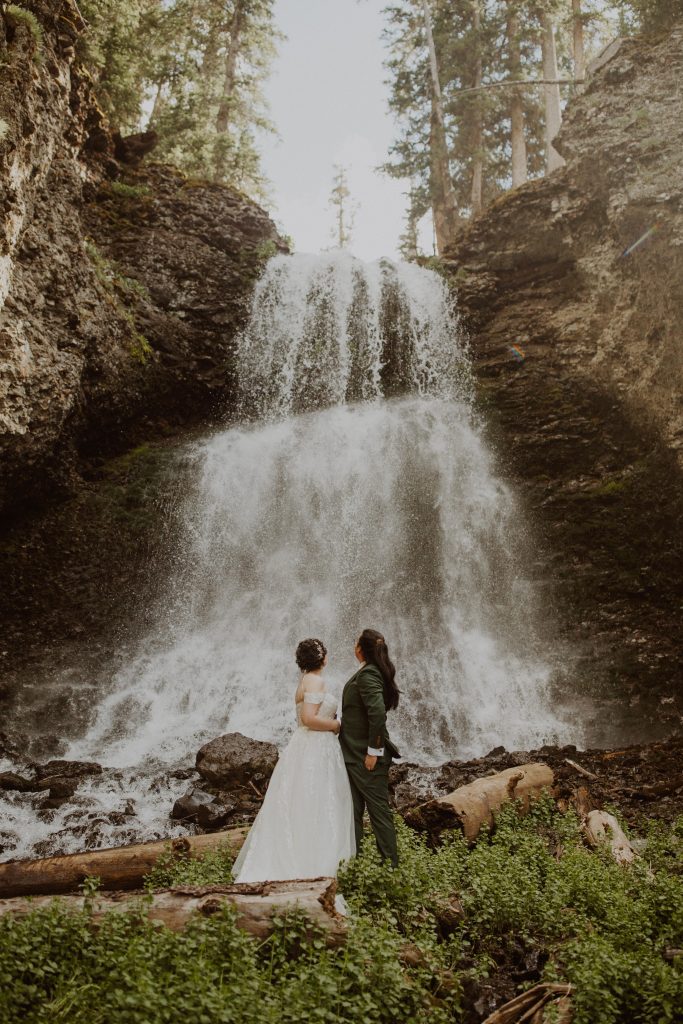 Hiking Trails:
The San Juan mountains have tons of world class hiking trails! Spending the day hiking to a remote, scenic alpine lake to say your vows, is an incredible way to get married. I'm all about creating an experience on your elopement day, and hiking is the perfect way to do that! Fair warning though, most of these trails are not easy! The views are worth it though! Just remember, you are hiking at extremely high elevations, so it's important to be prepared, and aware of the dangers.
Here are some of my favorite hiking trails:
Ice Lake + Island Lake
This is my all-time favorite trail in the San Juans. This trail can be extremely difficult. It is just under 8 miles round trip, with over 2,000 ft. of elevation change, but the views when you reach the top are well worth it. Island Lake is one of the most beautiful lakes I have ever seen. You can probably guess by the name – there is an island right in the middle of the lake. The water is also truly as turquoise as it looks in the image below.
Lower Blue Lake
This trail is about 6 miles roundtrip, with 1200 ft. of elevation change. Blue Lake is an incredible, bright blue color, with gorgeous mountain peaks all around it. This is one of the most popular hikes in the area, because of how stunning it is!
Sloan Lake
You'll need a Jeep to get to the Sloan Lake trailhead! The drive up is absolutely gorgeous! Once you reach the trailhead, the hike is 4.4 miles roundtrip through American Basin, to reach Sloan Lake. This lake is a gorgeous blue color, with rugged mountain peaks behind it.
Off the Grid Cabins and Air-Bnbs:
The San Juans have some pretty amazing off the grid cabins, and Air-Bnb options that would be incredible spots to elope! These gems are super unique, and could completely elevate your elopement experience! Some of these options are closer to town, while some are much more remote and secluded!
Here are some of my favorite off the grid cabins:
The Bonnie Belle cabin is located in the heart of the San Juan mountains, sitting at 12,000 ft. in Picayune Gulch. The cabin is remote, and only accessible by four wheel drive vehicle. There are plenty of activities to keep you busy, such as hiking, Jeeping, biking and fishing, just to name a few. The Bonnie Belle can accommodate up to 8 guests, and is the perfect spot for a remote, backcountry elopement.
Red Mountain Lodge is a backcountry lodge off of highway 550 (located between Ouray and Silverton). Being so centrally located, it has impeccable access to all the best trails the San Juans have to offer. The lodge operates year round, and can accommodate up to 22 people. It also includes premium chef prepared dinners, full breakfast options, and trail lunches! They do an incredible job of taking care of their guests here, so if you want to enjoy the outdoors, while also being pampered, this is your spot!
This solar powered, off the grid cabin features an incredible suspension bridge, over a deep gulch. This cabin is only accessible by four wheel drive, and there are no neighbors for miles – so you'll have the mountains all to yourself! This is a really unique location, that was built to intentionally allow you to disconnect and be present. The cabin sleeps 6, so it's perfect for an elopement!
The Dunton Hot Springs is a restored 1800's ghost town, nestled deep in the San Juan mountains. Dunton is a collection of secluded cabins, which combine the remote, rugged landscape and historic architecture, with luxurious accommodations. The property features private hot springs, that were used years ago by the miners, and the Ute Indians before them. Dunton can accommodate up to 44 guests. It is not cheap, but it is well worth the price, for the incredible experience.
Alta Lakes are some of my favorite lakes in the San Juans! They are incredibly quiet, and peaceful, with the smell of campfire in the air, and water so clear you can see the trout swimming. The Observatory is a remote, backcountry cabin nestled under 13,000 ft, peaks, just off of one of the three lakes. This spot combines adventure, with luxury, and would be the perfect place for an elopement. Alta Lakes Observatory can accommodate up to 45 people for an outdoor wedding celebration.
Intimate Wedding Venues: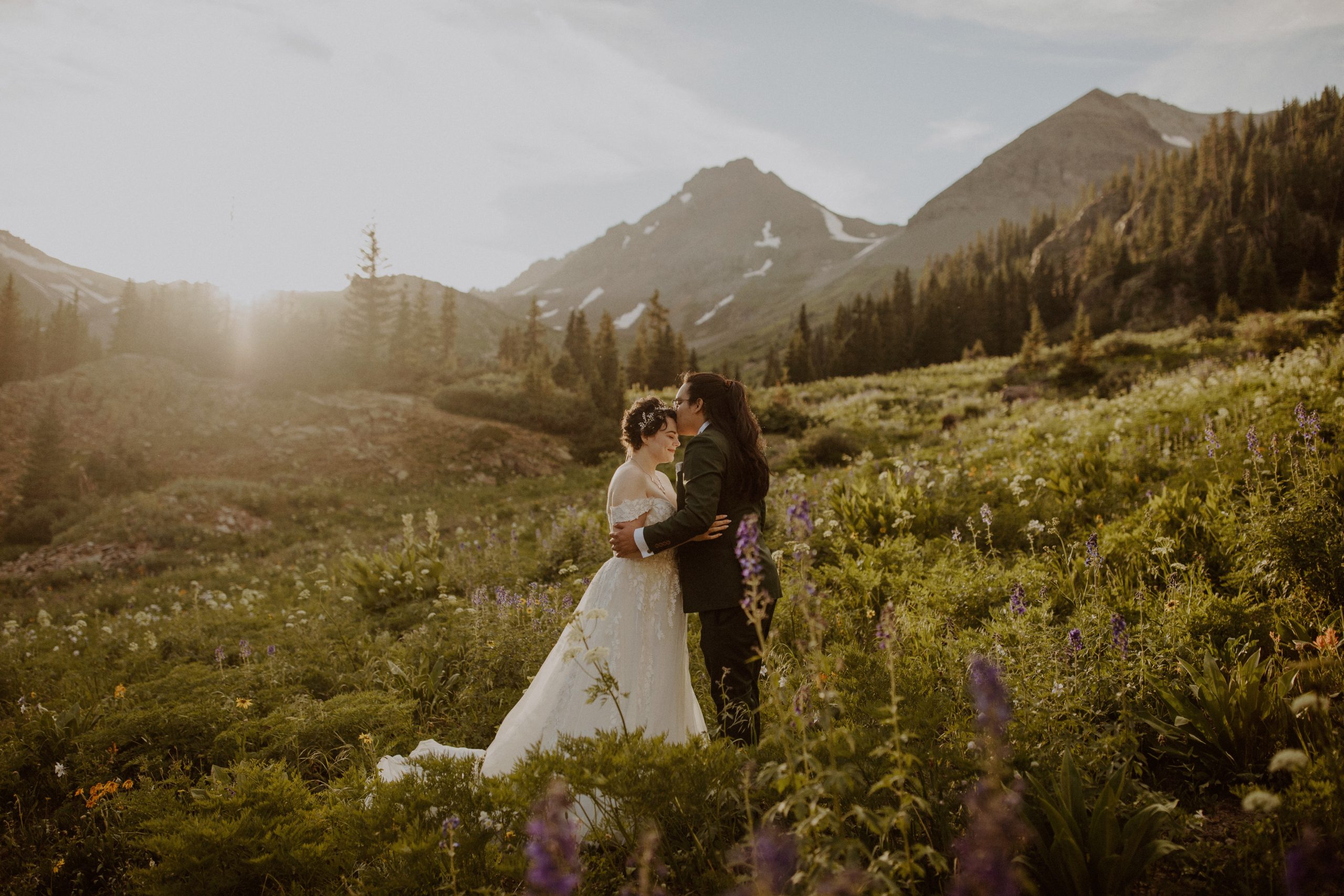 For couples that want to have an intimate experience, but still include a group of guests in their ceremony, and host a nice dinner, an intimate wedding venue can be the perfect choice! Air-Bnb limits the maximum guest size to 16 people, so for groups larger than that, I recommend renting a small wedding venue, or a space for a reception! This will take a lot of the stress and complexities out of planning, while still offering a unique and intimate experience.
Here are some of my favorite small wedding venues:
This is one of the most gorgeous venues in the entire country. Located at the Telluride Ski Resort, you ride the gondola to reach the venue. The overlook features gorgeous views of the town of Telluride, and Wilson Peak. It is an incredibly picturesque spot!
The Eureka Lodge is an incredibly unique wedding venue. The lodge was built in the 1920's, and was originally a mining complex. The building has been renovated over the past 24 years, and now has 17 rooms available. This lodge has pristine mountain views and sits on the Animas River, making it the perfect spot for an intimate wedding.
The Wyman Hotel is a stunning modern hotel, that contrasts the rustic charm of Silverton, Colorado. The hotel was built in 1902, and has been renovated as an urban boutique space, with 15 rooms available. The hotel is located on Main Street, and can host small weddings.
The Avon is an incredibly unique hotel with rugged, western charm, located in the heart of Silverton! Previously an old Saloon built in 1904, the building has been renovated to now have 14 unique guest rooms. Unlike some renovated spaces, this hotel has maintained a lot of the historic charm. The basement offers space for a unique music venue, and there is also an outdoor area, perfect for hosting a group of guests.
Top of the Pines is an incredibly beautiful outdoor recreation area, located at the foot of the iconic Sneffels range. The open space has a gorgeous meadow, with spectacular mountain views that can be used for a stunning outdoor ceremony. It also has an enclosed pavilion structure with multiple amenities.
The Western Hotel is one of the newest hotel additions to the San Juan Mountains, and has quickly become one of my favorites. It was built in 1891, and was recently restored into an absolutely stunning, luxurious and rustic piece of history. The Western is located in Ouray, Colorado and is the perfect place to host a small group of guests.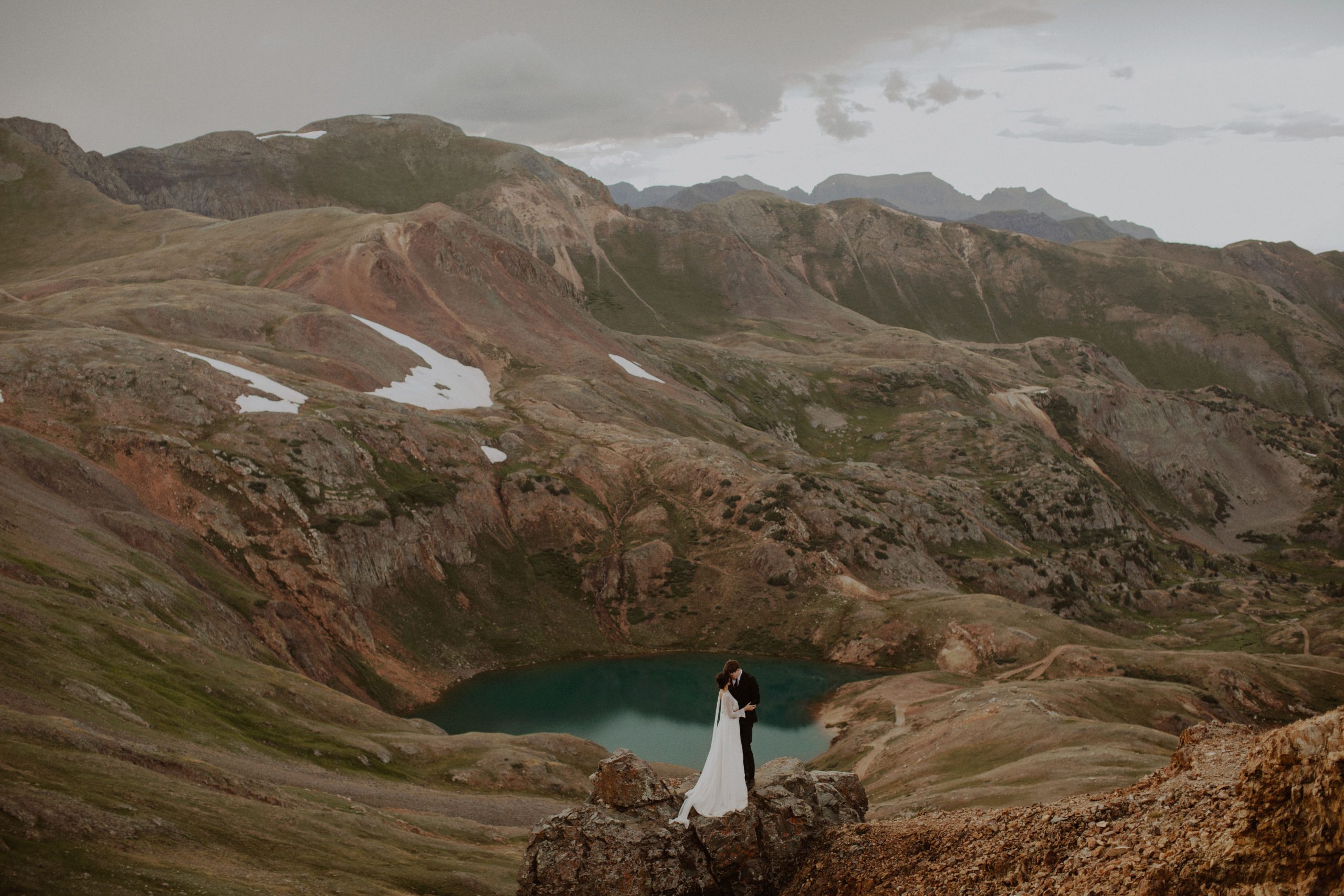 Let's get started planning your elopement in the San Juans!
I specialize in helping couples plan incredible elopement experiences in the San Juan mountains, and I love nothing more than getting to share this special place with my eloping couples. This list of locations is only scratching the surface of what western Colorado has to offer. I provide a customized list of location options for all my couples, and my experience exploring the area means that I know of a ton of secret spots. Learn more about how to elope in Ouray Colorado and contact me here to get started planning your dream elopement experience!