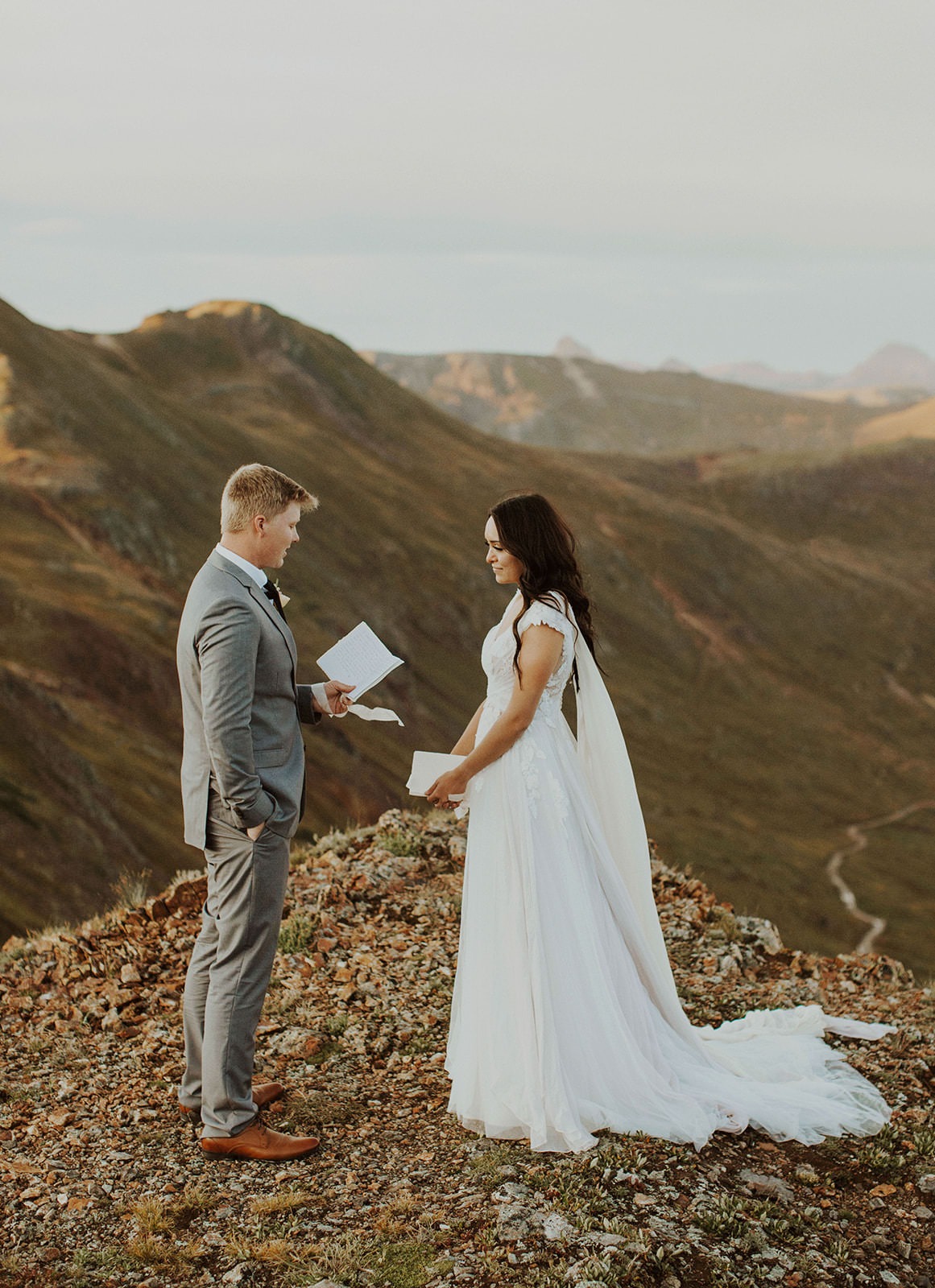 Planning your wedding day should be fun.
I am over the idea that a wedding should be stressful, and hard to plan. Luckily when it comes to planning an elopement day, instead of choosing things like table settings and seating charts, you are choosing things like which Alaskan helicopter tour you should book.
I always encourage my couples to dream BIG when it comes to their elopement, because the possibilities are truly endless. You have the freedom to do anything you want, without any obligations, traditions or expectations.
All of that freedom can feel overwhelming though, when you first begin the planning process, which is why I wanted to create some resources to share everything I have learned over the years of helping couples plan their day.
Below are some helpful tips + resources to help you begin planning your adventure.
But first, what does it actually mean to elope?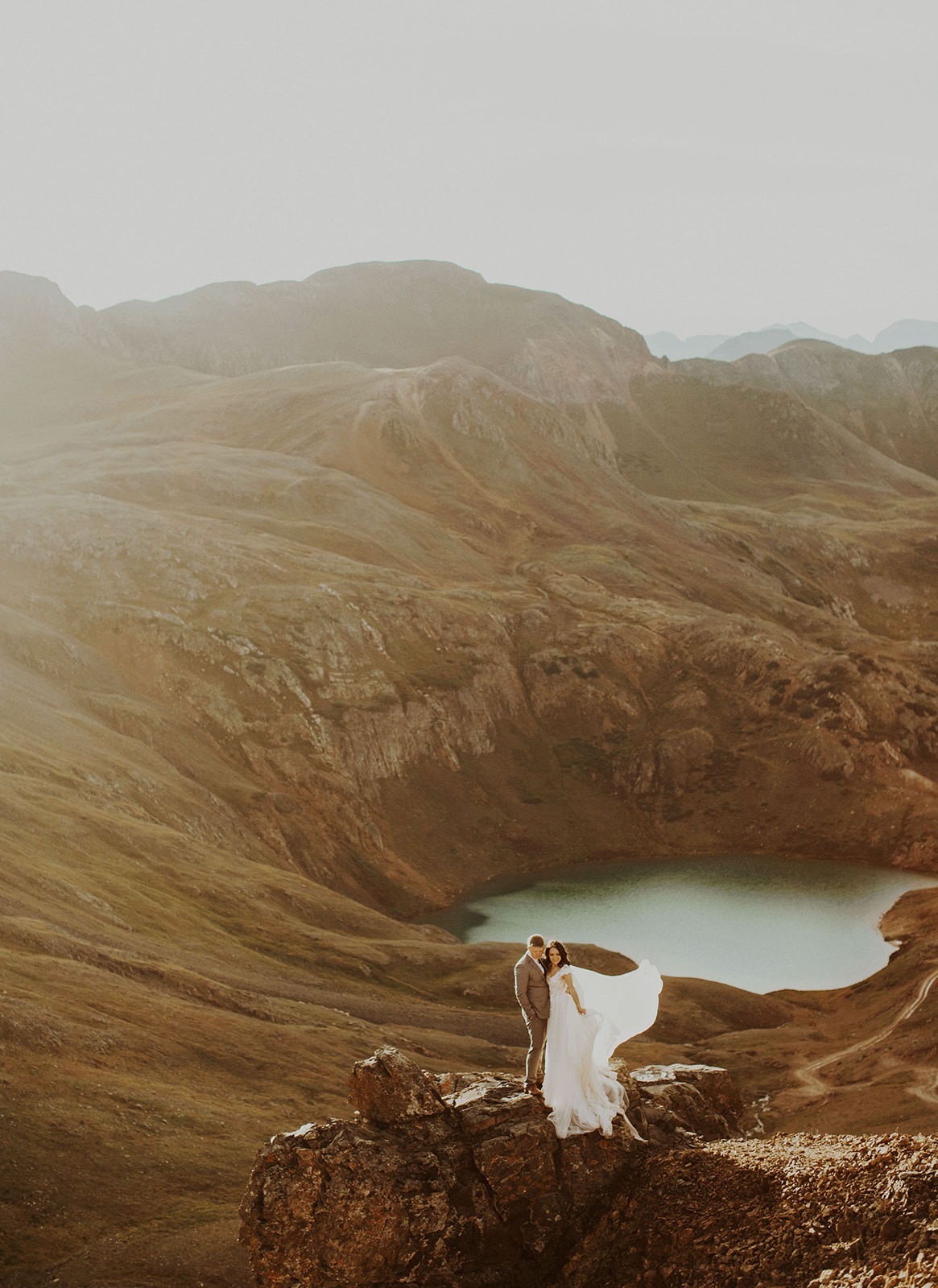 The term elopement can be confusing since there is no clear definition of what it means. I like to think of an elopement is a day that is a true reflection of your relationship, that emphasizes what is most important to you, surrounded by the people that matter most. An experience, rather than a big production filled with stressful checklists and traditions.
It can be as simple, or adventurous as you want it to be. You can elope in a place that is meaningful to you, or a place you have never been before. It can be just the two of you, or all the people that mean the most to you.
Eloping doesn't have to be about having a "cheap" wedding. Although yes, it's a great way to save on things that don't really matter to you, eloping is about so much more than that. It's about having an experience that is worth more than any dollar amount. Maybe you end up spending the same amount of money that you would have on a traditional wedding, but instead of spending the majority of your budget catering to 100+ guests, you get to have the trip of a lifetime exploring an incredible place that you can't believe is actually real, with your favorite 10 people.
Frequently Asked Questions
How can we avoid crowds on our elopement day?
Can we bring guest to our elopement?
Almost every elopement I shoot occurs on public lands, which means there is never a guarantee to privacy. That being said, as an experienced traveler and expert location scouter, I have a knack for finding incredible, lesser known spots that are often completely private and secluded from tourists. I also always recommend eloping on a weekday, and either planning for sunrise or sunset to avoid the bulk of the crowds.
Absolutely. An elopement is not defined by a guest count. Every photographer is different, and I personally don't have a limit on guest count, but it's important to understand that the more guests you bring along, the more complicated, expensive and restricted your day will be. If you plan to have more than 16 guests, you may need to hold the ceremony on private land, such as a small venue, or private home. As long as you have flexibility with location and budget we can make it work!
Do we have to hike to elope?
What happens if the weather is bad?
Absolutely not! In fact, most of my couples don't! So many couples feel like they should do something "epic" for their elopement - but eloping is all about ditching the things you "should" do, and instead doing exactly what you want to do. So whether you want to do a crazy hike, take a helicopter to a glacier, travel to a new country, or elope in your own backyard, your choice is valid. I don't care where my couples get married, or what activities they choose to do, just as long as they are having the absolute time of their lives.
Eloping outdoors is always going to be unpredictable, and any mountainous region that is worth visiting is going to have risky weather patterns. Honestly a little rain on your elopement day makes for great photos, and an epic adventure. I typically have a few backup plans in place, and I normally also try to buffer in an extra day into my schedule, in case the weather is so bad that we need to reschedule to an entirely different day. Rest assured - your elopement day will be incredible rain or shine.
Where are the best places to elope?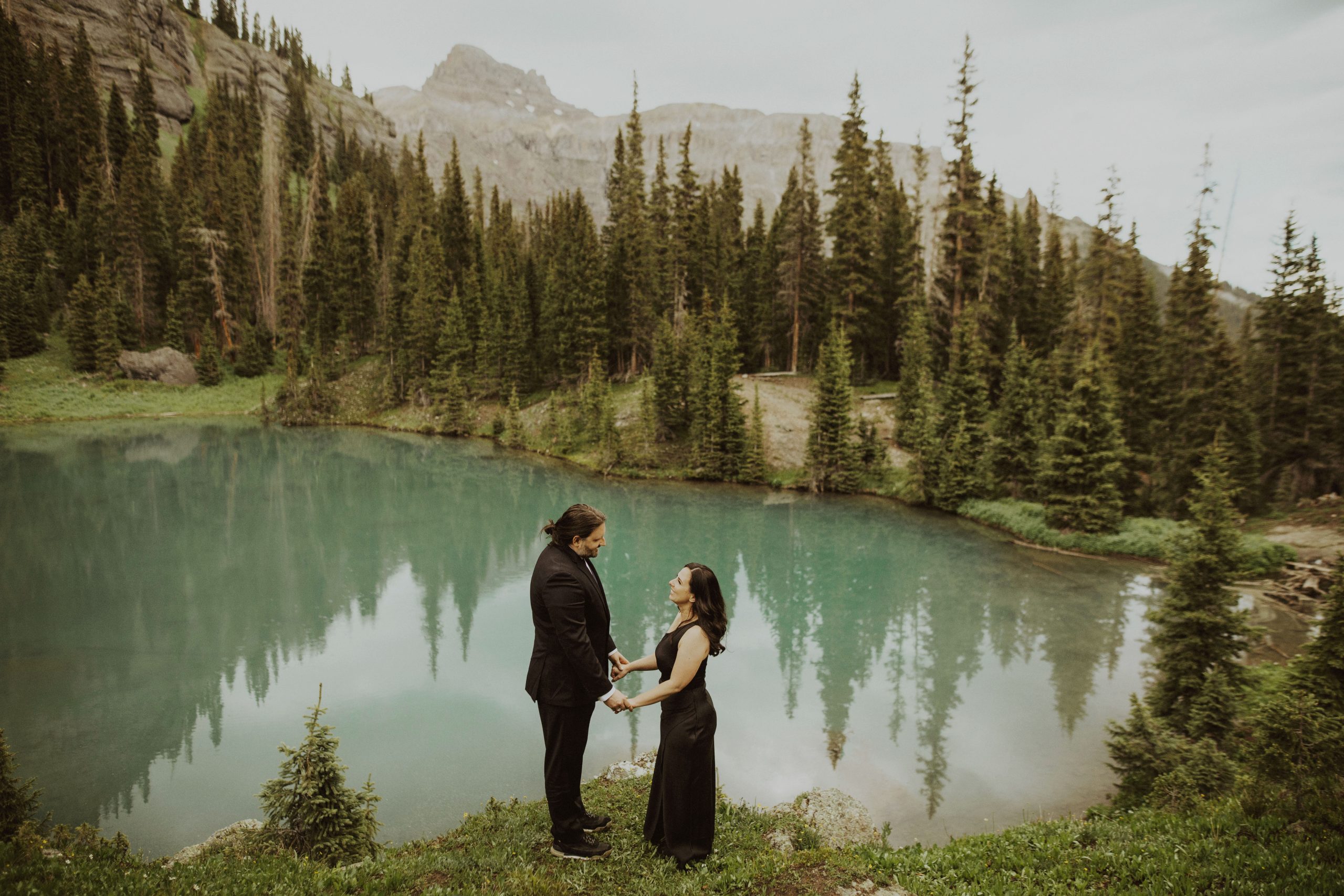 The San Juan Mountains:
My second home, and top recommendation for an elopement location. Rugged mountains, the off-roading mecca of the world, pristine, secluded landscapes without another person around for miles. This is where I shoot about half my elopements each year.
The best seasons to elope in the San Juans are July- Aug for lush greens and meadows of wildflowers, and end of Sep - early Oct for the peak fall colors, and Jan - March for a stunning winter wonderland.
Alaska:
The most wild, ancient place I have ever experienced. Glaciers, wildlife, hiking, you name it. Alaska is epic, and humbling - the perfect place to elope.
Summer in Alaska is moody and gorgeous, with fireweed in full bloom and foggy mountains. The fall colors typically begin around mid August, and peak around mid September. Of course winter is also a great time to visit because of the opportunity to see the northern lights!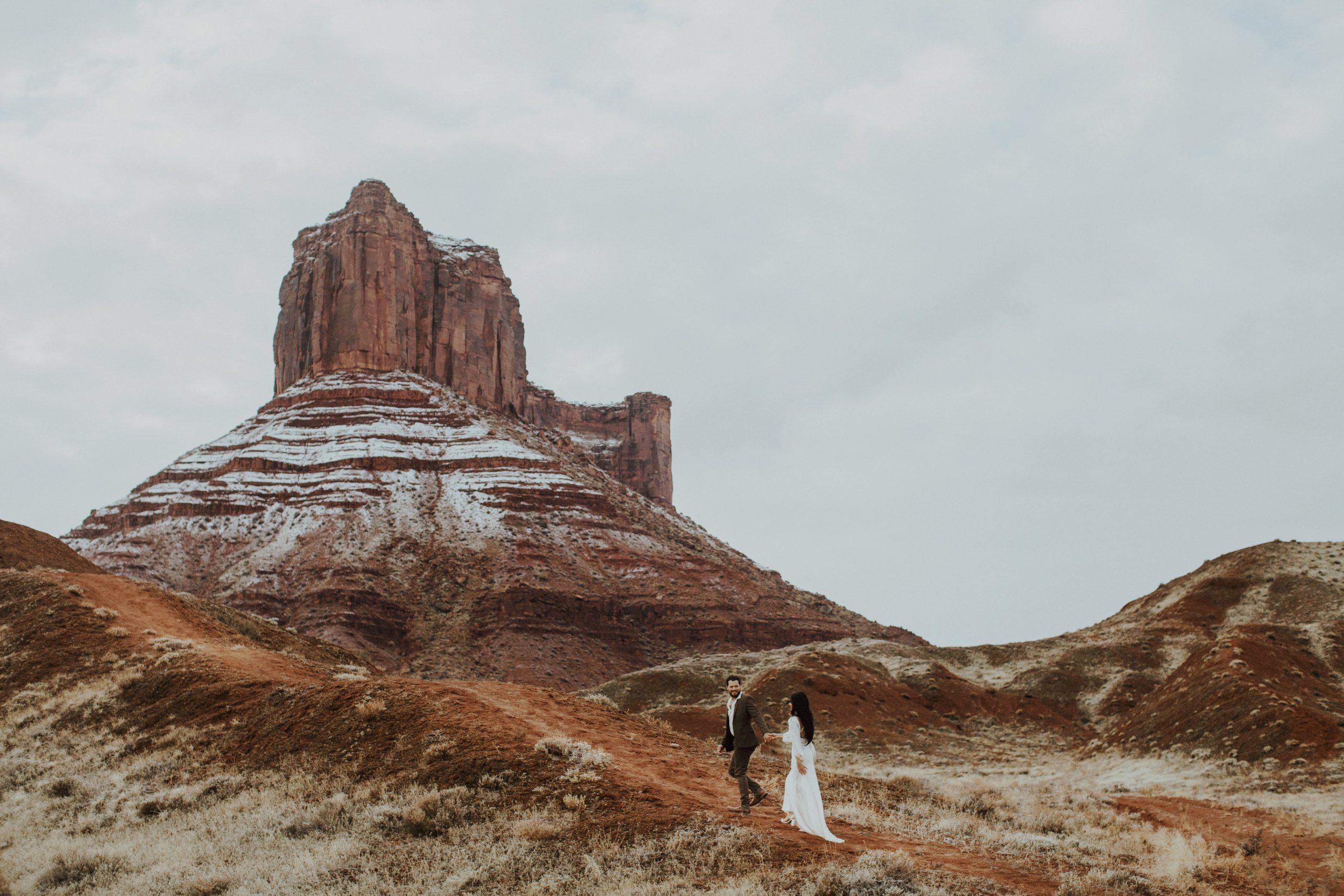 Southern Utah:
There is something magical about the rugged desert landscape – the warm colors, jagged rock formations, deep canyons, and wide open spaces that make you feel small. It's truly special to experience. The perfect combination of beauty and adventure.
It's best to elope in the desert in the off season months, to avoid the intense heat of the summer. Southern Utah in March - May, and Oct - Nov is absolutely magical.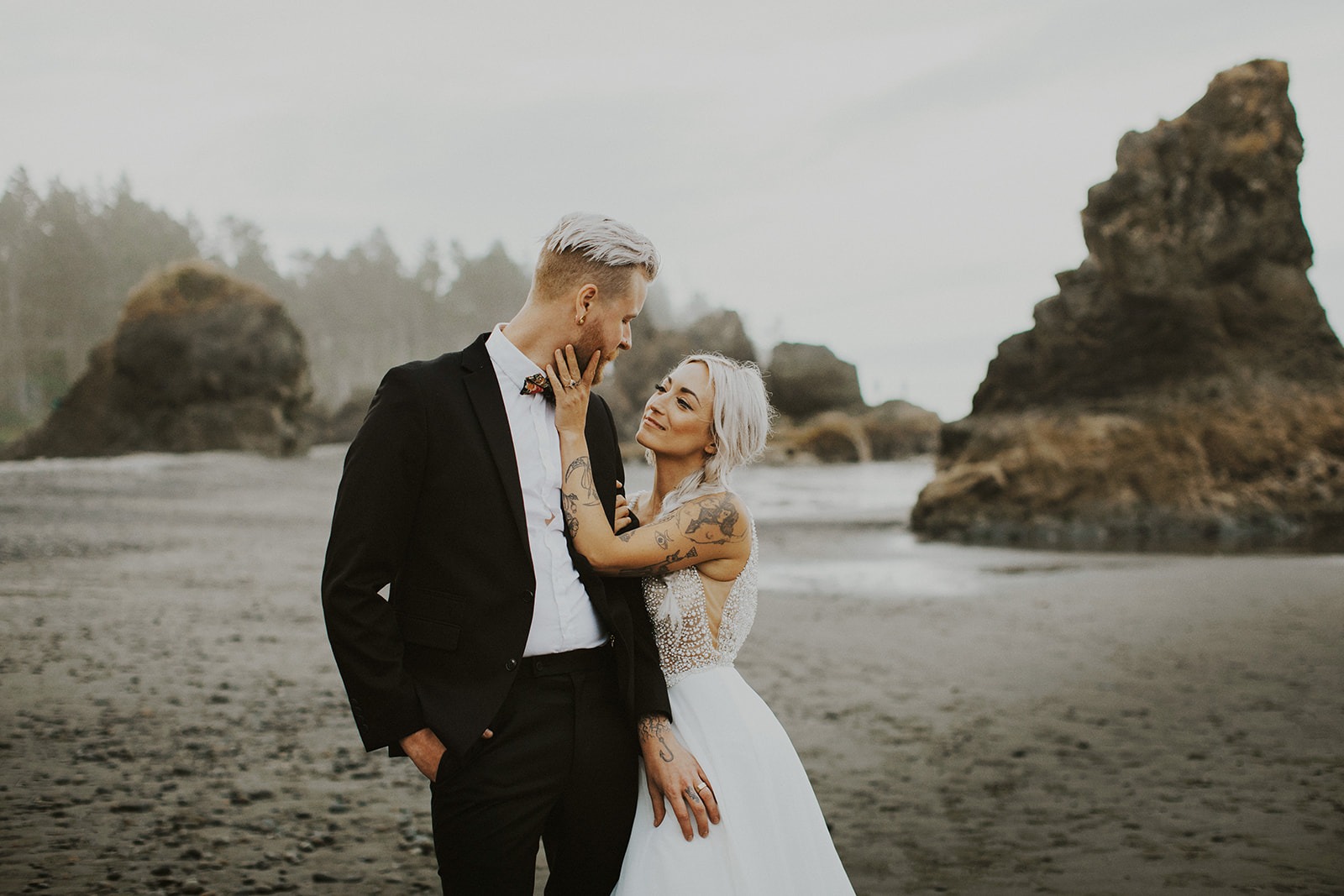 The Pacific Northwest:
This includes anywhere from northern California to northern Washington. An incredibly diverse landscape with lush rainforests, rugged coastlines, ancient redwoods, and massive waterfalls. A place I love returning to year after year.
I recommend eloping in the Pacific Northwest anytime from May - July. During this time everything will be incredibly lush, with raging waterfalls and beautiful warm weather. Avoid late summer if you can, because it's wildfire season!
Yosemite:
One of my favorite National Parks in all of the US. Yosemite is an absolutely spectacular place to elope, with massive granite walls that tower thousands of feet above you (or below). Despite its intense popularity, it remains a wild, surreal landscape.
I recommend trying to elope in the off season months to avoid the crowds. Typically between May - June and Sep - Oct everything has died down a bit, but most of the roads and trails will still be accessible!